Ape Law releases 'Albino Lullaby': An immersive game for the Oculus Rift
Rate this title
Virtual reality is one of the hottest new gaming trends and as the technology advances companies release VR-centered offerings.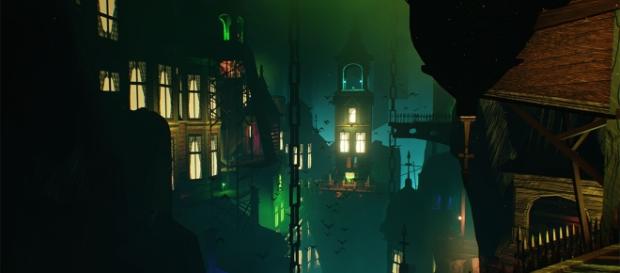 Virtual reality--often abbreviated to "VR"--is becoming a staple of entertainment in the gaming industry. To that end, the Oculus Rift has become one of the most talked about and sought after gaming systems that uses 3D capabilities to immerse players in virtual worlds that essentially make the player feel as if they have entered into another dimension. Given the extreme popularity of the Oculus Rift and its capabilities, many companies have created games that are specifically tailored to enhance player's perceptions of reality whilst wearing the Oculus headset. "Albino Library" by Ape Law is one such game.
Overview  .
Albino Library is a psychological horror adventure that is fully equipped with creepy sound effects yet it notably lacks blood and gore.
Instead, dark themes are hidden within the layers of content that players uncover as they work their way through the story. "The more you put the pieces together the more horrific the picture becomes," game designer and Ape Law CEO Justin Pappas explained proudly. Having dreamed of creating a virtual reality project since the 1980s, Justin was thrilled to be part of the core team that brought Albino Lullaby to life.
The initial concept was formed when he was in graduate school: "We did a project where we were stuck in this prison/library and tasked with escape. As you got closer to escaping things outside the library began to sound more and more gruesome. I wanted players to imagine what could be going on outside and wonder if they were safer as prisoners. With 'Albino Lullaby' we took this idea of trying to get players to scare themselves and ran with it." The title was chosen for its ability to invoke a sense of mystery and intrigue whilst also sounding somewhat sinister.
Details.
The plot of the game centers on a nameless main character who gets into a car accident and wakes up in a strange prison where the floor moves and bubbles float through the air. The goal of the game is to figure out where you are, how you got there and how you're going to get out. The game is designed in a way that renders the environment vital to the overall plot; almost a character in of itself. Among the areas of exploration are a dark cavern and a mechanical Victorian mansion containing rooms that can rearrange themselves. An essential part of the company's design philosophy is to make the player the main character and to format the game without cut-scenes thereby making the pace of the game seem as life-like as actually taking a walk and/or exploring a location. Hence, playing the game feels more similar to dreaming than watching a movie.
VR.
Although "Albino Lullaby" is the first release by Ape Law, the company has a lot planned for the future. "We are currently trying to raise funds to further enhance games for VR," Justin explained in a recent interview.
"We want to add room scale exploration and hand controllers. The promise of VR is that it can transport you to another place entirely and that's what we set out to do." The company is so dedicated to finding the next big thing in games that they actively seek idea submissions from writers and game designers. Certainly, Ape Law is not alone in this mission: Blackthorn Media, Reload Studios, and nDreams are also actively producing VR content. Hence, it is reasonable to assume that VR is on the cusp of becoming the single hottest trend in gaming within the next five years.
Future. 
Justin regards positive reactions by fans to be the most rewarding part of his job. Whilst the market for VR is still fairly small, the technology is evolving rapidly and Ape Law plans to keep growing. "We have two sequels to 'Albino Lullaby' in the works and tons of other projects planned for the future," Justin stated. "We love horror, but we want to explore other stories and themes too. My advice to aspiring game makers is never to be idle; always have a project in the works. Whether by yourself or with a group constantly improve your skills and add to your portfolio."
Click to read more
and watch the video
or