Twitch hates indie sex: "Cobra Club" makes HD return following Twitch ban
Developer Robert Yang brings back "Cobra Club" in HD, now available for free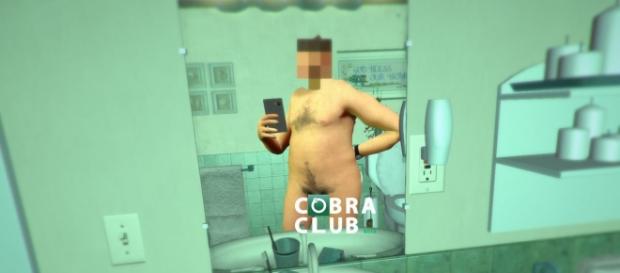 "Cobra Club" is a game about taking dick pics. It's a short game, one that says volumes more with its symbolism than its action. "Cobra Club" addresses self-image, the social concepts of sexuality and nudity, and even breached privacy. Game streaming service Twitch doesn't care about the game's deeper meaning, though. The game has been added to Twitch's banned list, prohibiting its streaming.
Now "Cobra Club" is back, better than ever, and completely free. Developer Robert Yang has uploaded an HD version of the game to itch.io, with a few additions. Players can now take pictures of an even wider variety of genitals, add photo filters to their selfies, select pubic hair from a slider, and even engage with the new "strap-on support." The game will now also be distributed for free, though not for the reasons you might think.
No pants, no service
The game distribution platform itch.io works on a "pay as you want" scale, but Yang will not be accepting any money for "Cobra Club HD." The developer explained that this is not a choice so much as a force of his hand by Paypal, which handles itch.io transactions. According to Yang's 2016 GDC speech, Paypal's terms of service state: "You may not use the PayPal service for [...] certain sexually oriented materials or services." This means selling his game risks getting him banned, which is something he can't afford as a young indie developer.
Does Twitch discriminate against indies?
Paypal's terms are more forgiving than Twitch's, which states that "Any content or activity involving pornography, sexual intercourse, or adult services is prohibited." In his GDC speech, Yang pointed out that the definition of "any content" varies widely based on the amount of money that went into making the game.
In other words, Twitch seems to be a bit more trigger happy when banning indie games over larger, AAA titles.
Yang points out that Twitch banned his other title "Rinse and Repeat," about a man attempting to engage sexually with other men in a public shower (despite genitals being censored). It also banned "What's Under Your Blanket," a joke game about a teenager constantly getting by his family while trying to have some self-love time in his room. On the other hand, Twitch does not seem to have a problem with games like "The Witcher 3" and "South Park: The Stick of Truth," the former of which features naked women and a unicorn sex scene, and the latter of which have you fight penis and testicle monsters. "If I were cynical," concludes Yang, "I would say that Twitch allows plenty of sex and nudity in games with big publishers, but isn't nearly as 'understanding' with small indie games."
No matter what conclusions you draw about Twitch, there is a bright side to all this: despite the Twitch ban, you can still play "Cobra Club." Just don't stream it on Twitch or you risk getting banned too.