The stylish "StarFlint" adventure game is out of this world, literally
Interview with the creators of 'StarFlint the Blackhole Prophecy,' an epic point and click game set in outer space.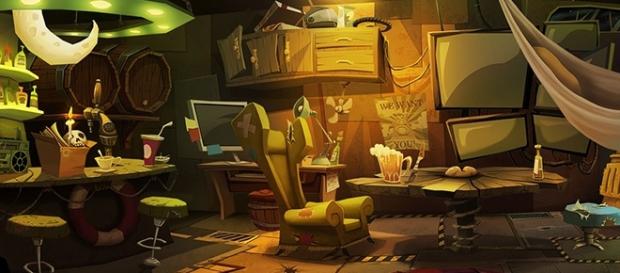 Fire your thrusters and get your pointer fingers ready, because "StarFlint the Blackhole Prophecy" by Stunmason Games is a point and click game tailored to fans of the genre. The awesome Trixie and the significantly less awesome Flint couldn't be any more different, but fate has thrown them together. They'll need to work as a team to uncover the mysteries and conspiracies around them. Can you lead the two protagonists to a good ending? "StarFlint" is the product of love, put together by a team that grew up on the point and click genre. Led by Suzanne Masson and Robert Masson, the game is shaping up to be everything fans of classic adventure games would want.
Mature and Immersive
"StarFlint" might seem like a silly game, but its undertones are anything but. The game will feature an immersive, extremely clickable environment, choices that actually matter in the long run, multiple endings, and overlying themes of a more mature nature. The goal was to give the player freedom, and "break the linearity of the genre," says Suzanne.
All the freedom and interactive environment doesn't mean the game will be asking you to complete illogical puzzles based on what items you can MacGyver together. Suzanne dislikes those kinds of puzzles as much as frustrated players do: "I hate having to go to a website to find the solution," she says, "to spend eight hours doing all possible combinations." To avoid these kinds of puzzles, the team is working on giving puzzles multiple solutions.
"We want a strong challenge for regulars," says Suzanne. "And that's where we leave the possibility for players to be able to solve a puzzle with many possibilities. Of course, result will not be the same at the end. This will provide some replayability if you want to see them all. One way more casual and logical, and one other more subtle and tactical."
Drawing inspiration
The inspiration for "StarFlint the Darkhole Prophecy" came from many places. Much of the team behind the game grew up on "all these great films of science fiction from the 90s until present days." All the people involved are sci-fi fans and cartoon animation fans. In "StarFlint," you might see moments and stylistic choices inspired by everything from Disney to anime.
And yes, the game has reminded some of another recent point and click from Daedalic Games. In recent years, Daedalic and a number of other point and click studios have been bringing the genre back to its roots, reviving the 2D point and click and taking the genre back to its roots.
"So yes, comparison with 'Deponia' is inevitable," says Suzanne.
Suzanne is certain that despite the similar setting, "StarFlint" has plenty to offer. The team wants the game's story to be "primarily built around the characters and by the characters (so by the player) and with great cartoon animations." Aside from funding, Suzanne has been meeting some friction due to some people still getting concerned at seeing a woman's name at the helm. To this, Suzanne says: "Seriously guys? I was already playing point and clicks games before you were born!" In other words… this game is in good hands.
To Kickstarter and beyond
At the time of this writing, the only thing standing in the way of the game's completion is funding. Not for the creators, mind you - for the artists. Stunmason Games' Suzanne and Robert have turned to Kickstarter to seek funding to pay the artists. All funds raised will go solely to the creatives working on the project. And judging by the beautiful artwork, style, and passion that went into the making of this game, it's money well spent. Support them on Kickstarter, or if the funding period is over, follow them over on Facebook and Twitter. #Buzz #Video Game