Drawing and painting on the iPad Pro with Apple Pencil tips and tricks tutorial part 2
Rate this title
Concepts by TopHatch might be the hybrid drawing, paint and vector app you've been looking for.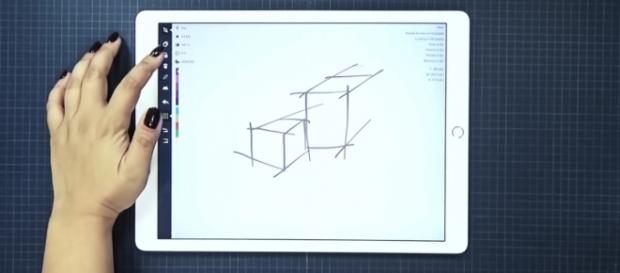 Sometimes a paint app doesn't have all of the tools needed to create a visual concept and sometimes a vector drawing app doesn't, either. The solution many digital designers and artists might be looking for can be found in the app Concepts by the company TopHatch, available in the Apple App Store for use with the iPad Pro and Apple Pencil. The company claims that they use math so that "Your thoughts are manipulable for the future."
The potential uses for an app like Concepts
The hybrid application can be utilized for art or design and this brief article will expose some tips that will get you started with all the basic information you'll need.
On their website, TopHatch claims you can go from rough sketches to refined drawings, and, with some patience, this is true. It might not be a replacement for a full-fledged CAD program, but it certainly can handle the small jobs and help isolate conceptual ideas and organize thoughts for future consideration.
Concepts is a free download with an optional in-app purchase
There's no up front costs to start using Concepts as the download is free at the Apple App Store. The free version has some limitations, so let's get those listed and out of the way first. Basically Layers and Adjust, which gives the user full control over layers, plus the ability to select, adjust and edit any stroke, is an in-app purchase and the Precision Toolkit, which unlocks all of the precision shape guides, is another in-app purchase.
Those powerful tools can be unlocked individually or you can buy the Pro Pack for $7.99 which simply unlocks everything and allows advanced export options such as PNG, SVG, DXF and PSD. The suggestion here would be to buy the Pro Pack so that you have zero restrictions to your creativity.
Mixing paint tools and vector tools has never been easier
The basic tools in Concepts include a pencil, eraser, pen, marker, filled stroke, airbrush, wire, fountain, fixed width and dotted line. Within these tools you control the tool size, opacity, smoothing and wiggle factor of your lines and strokes and the ability to pick a color from the COPIC color wheel. What you can't do, yet, is select a color already drawn or in a photo you import to work on top of for reference. Concepts is Apple Pencil compatible and the user experience is frustration-free and fluid. Watch the video below for an unboxing of an iPad Pro and use of Concepts from the TopHatch YouTube channel.
Click to read more
and watch the video
or