Stunning Video: SpaceX Rocket Lands On Ocean Drone Platform
SpaceX successfully lands a Falcon 9 on a ship after failing four times.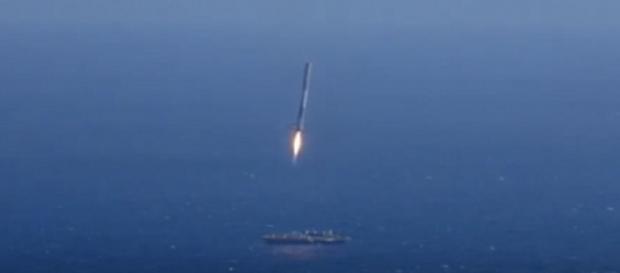 And finally, in the fifth attempt, Space X has successfully landed the booster rocket on a drone ship. This milestone achievement on April 08, 2016 is expected to open a new window in enhancing the chances of using missile technology for more than once.
The new success has fetched positive responses from all corners, and even President Barrack Obama showered praises on the technicians and the team involved in this attempt.
Obama congratulated everyone who took part in this mission through his official social networking handle. He also added that it is because of such impeccable personalities in the Space arena which is helping NASA and the U.S to maintain a prime spot in the sector.
On Friday, the Falcon 9 staged down successfully on the drone vessel which is named 'Of Course I Still Love You'. The historical event happened in the Atlantic Ocean off Cape Canaveral. It should be noted that previous four attempts to land the rocket in drone by SpaceX have failed miserably.
Watch video:
According to experts, the successful landing mission will fetch benign benefits in the area of space technology. They believe that reusable rocket technology will save a whopping sum of money which is now being spent on building the new one.
Space X officials, NASA employees, and end number of space buffs watched the video of landing live, and soon they realized that it became a giant leap in the history of space exploration. This latest achievement is the result of unending efforts put by SpaceX CEO Elon Musk to reuse spacecraft technology.
Later, Leon Musk told that the whole team is excited about this, and it is the reward for their long hard work and patience. He also mentioned that making successful landing was quite hard to achieve. Musk also made it clear that in the future, ocean landings will be an integral part of all kinds of missions.
The company's next aim is to conduct 16 more launches this year, and to launch its inaugural crew-occupied Dragon satellite in an experiment flight in 2017.