"Dark Souls" tabletop iteration will be just as difficult as the video game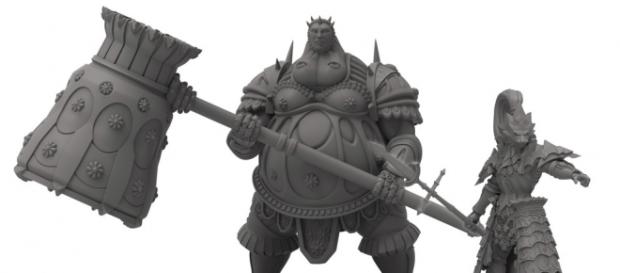 Prepare to die, again. From Software's notoriously difficult "Dark Souls" games is getting a new standalone experience, and this time you won't have a controller to throw in frustration. Riding right on the successful release of "Dark Souls 3," board game makers Steamforged Games will be making a Dark Souls tabletop game.
Expect the best from Steamforged, who has been hard at work making the board game true to its roots. According to a recent blog post by the Steamforged team, the "Dark Souls" tabletop is designed from the ground up to be a "brutally hard exploration miniatures game for 1-4 players." Don't let the "exploration" part fool you -- this game won't be a walk in the park.
In fact, the blog post proudly declares that "this will be the hardest board game you have ever played."
Smart ways to die
The "Dark Souls" board game will feature a "fast setup, long reveal" style of playing which will throw players directly into the frey and create the environment as you go. Players will never know what to expect, as the levels literally build themselves under your feet. Combat and exploration will be two big parts of the game, and both will offer a number of ways to die, brutally, over and over. To survive, you will need to manage your stamina and play strategically.
The blog post boasts an "innovative behavior mechanic" for enemy encounters which will ensure no two fights are ever the same. Expect to find many bosses and mini-bosses scattered around, including some familiar faces.
The team will be including the Dragon Slayer Ornstein and Executioner Smough, the guard duo from the first game.
The tabletop version of "Dark Souls" will come with a number of miniatures manufactured by one of the "finest board game manufacturers in the world." That means you can expect amazing detail and quality. Prototypes of the guard miniatures are displayed on the blog, and although they're subject to change they already look fantastic.
Back it on Kickstarter
Steamforged Games will be turning to Kickstarter to help them complete the production, and hype up the fans even more. Expect the game to hit Kickstarter on April 19th.
Click to read more
and watch the video
or