2016 Honda Accord (Sport): Versatile family sedan has sports car personality
Rate this title
Now in its fourth decade, the top-seller remains at its best with comfort, durability, European style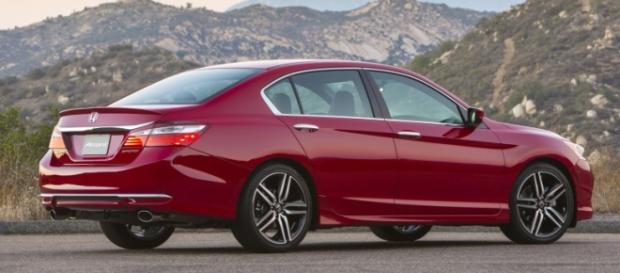 The Honda Accord was introduced in 1976 and like its competitors 40 years ago it was box-like sedan with an unknown future. But for many years now, the Accord has annually been among the top-10 selling cars in the United States.
Reasons abound. Solidly built, comfortable, well-equipped and reliable, the Accord and the Toyota Camry are the go-to family sedans for buyers seeking a fairly priced vehicle with few weaknesses.
In the past decade, several manufacturers, most notably Hyundai, Kia, Mazda and Ford have provided strong competition. As a result, Honda has adjusted the Accord through the years. It's now available in numerous trims and engine variants.
The Honda Accord Hybrid, for example, was re-introduced three years ago after several dormant years and prompted by increased competitive. (It was stopped for 2016 while its production was transferred to Japan, but it will return as a 2017 model.)
The Honda Accord Sport is arguably the most impressive trim in the lineup. Refreshed for 2016 with new interior and exterior features, the sedan provides a unique combination. It's an ideal family car but with a sporty bend.
The 195-horsepower, 4-cylinder features a continuously variable transmission. While not the fastest sedan, the Accord Sport's performance is far more than adequate. Its sportiness is further enhanced with a restyled exterior design with hints from BMW, Audi and other sports-oriented sedans with much higher sticker prices.
The lines are sleek, if slightly edgy. The Honda Accord Sport also features 19-inch wheels with handsome rims, a subdued rear spoiler and a dual exhaust. Like other restyled Accords, the Sport trim has a new front fascia and LED headlights.
Well positioned interior features
The interior design is well-presented. The instrument cluster features large circular dials with big white numbers and letters. There are a host of technology features, including a recessed navigation system. The touchscreen functionality can be awkward, but the learning curve is simple to master. Finesse rather than force works best maneuvering the sliding dials and arrows.
The average price of a new car in the United States is just under $30,000. The Honda Accord Sport, inclusive of packages and destination charges, is slightly more than $27,000. It's one of the smarter choices in the new car market.
Click to read more
and watch the video
or