First real-time analysis app could help "long-distance communication between doctor and patient."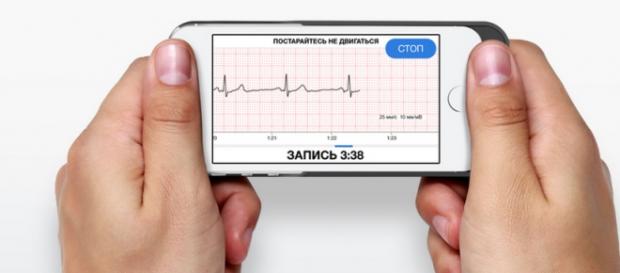 As wait times get longer and longer, more and more people are exploring alternatives to get the treatment they need. And now there's an app for that!
Cardiovascular disease is the primary cause of death globally according to the World Health Organization, with 17.5 million deaths in 2012 - approximately 31% of the world's total reported deaths.
What is an ECG?
An electrocardiogram (ECG or EKG) is a test that provides a graphical rendering of your heart's cardiac cycle. The ECG can help identify patterns and irregularities, and that can save lives. Many who suffer from cardiovascular disease rely on home-monitoring of their condition on a daily basis.
Show Me The Money
Not only do ECGs save lives, but they are big business. Without insurance, HealthCareBlueBook.com states that you can expect to pay $35 – $50 for the actual test, with an additional $200 – $300 price tag for the analysis, or explanation, of the information generated by the test. So at roughly $250 per person, per test, it's easy to see how that can add up, fast.
Cardiovascular Business magazine expected the "global electrocardiography (ECG) market" to reach "$157.9 million in 2015 with an annual growth rate of 3.7 percent." A recent report by Brisk Insight said the market "exceeded" that number, and estimates the market will grow to $6.12 billion by the end of 2022.
While portable ECG options currently exist, Russia's CardioQVARK seems intent on beating the competition at their own game by providing real-time information analysis.
Current top seller ECG Check an Android-based smartphone app by Cardiac Designs can run an ECG, but it doesn't have the ability to provide an evaluation of the results. AliveCor boasts "Over 5,000,000 ECGs" on their website. They do provide analysis, for a fee: $2 for a US-based technician (not a doctor) to evaluate the information within 24-hours, 'Express' service (30-minute evaluation) is $5, and $12 for an analysis by a US-certified cardiologist. The fees are not currently covered by insurance companies.
How They Work
All of the apps work in a similar method, in conjunction with a cover containing sensor pads, or individual sensors (no cover required) that are applied to your phone. You place your fingers, or thumb (depending on the product you're using), on the designated areas and wait 30 seconds. The app records your heart cycle and that's it.
Distance Makes The Heart Grow Fonder
While an app will never replace a physician's diagnosis, Russian Cardiologist Mikhail Stepanov said the program could be particularly beneficial in specific situations.
In conversation with Dinara Mamedova for RBTH, Dr. Stepanov said communication between patient and doctor despite long distances is the application's strength. And for those who live in rural communities or towns, hours away from the nearest testing facility, that can mean the difference between life and death. "I'd never get tested, otherwise," said Ingrid Milns, who would need to drive two hours to the hospital, if she had a car.
Russian Development
Russia traditionally relies on South Asian production facilities for the creation of their electronics and technology products, but they've seen a decline in the global value of their national currency, the Ruble. That weakening of the Ruble has made in-country production more appealing, prompting many Russian companies, like CardioQVARK to move their production back home from Asia.
CardioQVARK is currently in the process of getting both an MFI (Made for iPhone) license, and registered certification as a medical device, to enable its release into foreign markets. It is compatible with iPhone 5/5S, and developers hope to have an iPhone 6/6S compatible version later this year. They also have plans to expand the app's capabilities to assess an individual's "age, physiological or emotional condition, and the presence of bad habits."
Click to read more
and watch the video
or