Watch this Stunning NASA's 360-Degree Video of Mars
NASA has released a 360 degree view video of Mars shot by Curiosity rover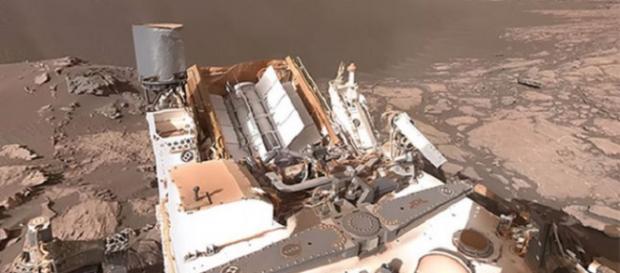 NASA's 360-degree video of Martian Terrain by Curiosity is here!
Imagine you have just landed on the surface of Mars, and you look around. What would it look like? 
Ever wondered what the Red Planet has in store for your eyes. NASA too seems to have thought along those lines, and the result has been amazing!
The Curiosity rover which is now doing the rounds on the Bagnold Dune Field terrain has sent in a new video that would hold your breath in excitement. The video is now yours to try out.
All you would need is a smartphone to experience Mars, but we would also suggest you make use of a Google Cardboard viewer. The results will blow your mind, for sure.
The 360-degree scene captured on the spot where the Curiosity clicked a selfie some time ago is close to the brown Namib Dune. Yes, that's exactly where the Curiosity had collected soil for analysis as it inched its way up the Mount Sharp.
Watch the video:
Captured by Curiosity's Mast Camera (Mastcam) on December 18th, 2015, the 360-degree view video brings to the fore the capability of the two cameras that have been designed to take actual color photos and videos with a peaceful resolution of 1600×1200.
Assembled from many individual snapshots, the 360-degree video may not be technically perfect. But what's available indeed looks like a YouTube 360-degree video, and is awesome.
In case you would want to try out the video now, you may start the embedded video in your browser. Click and drag to pan around and see the landscape that the Red Planet presents before you.
If you are trying it out on a smartphone or a tablet, just open the video in your dedicated player and tap and drag it into the 360-degree view.
The best way we would suggest is to use the Google Cardboard Viewer. This YouTube video comes with a Cardboard button that launches it into the stereoscopic mode.  The scene is shot at Namib Dune with a view of Mount Sharp on the horizon
The Curiosity Mar's rover has 17 cameras, for the use of navigation and scientific analysis.
Click to read more
and watch the video
or