Takata Airbag Mess Blows Up, 90 Million More Could Be Recalled
Projectile metal shavings, poor welding, sub-par parts all blamed for recent driver deaths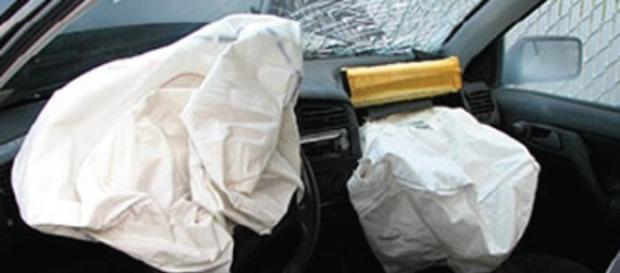 Just what is Takata Corporation thinking?
The biggest recall in automotive history may be on the horizon if United States auto safety regulators determine as many an additional 90 million Takata Corp. airbags are faulty and can cause fatal injuries.
According to Reuters, the international News agency, huge numbers of the company's airbags contain ammonium nitrate, a highly explosive chemical.
Takata hasn't commented recently. But the Japanese company said its airbags can rupture and explode via excessive force. The result: metal sharps can be propelled at vehicle occupants.
Takata Airbags Can Explode
The company said "it's cooperating fully with regulators and our automotive customers and continues to take aggressive action to advance vehicle safety."
What exactly does that mean?
According to regulators, about 24 million problematic Takata inflators installed in 19 million vehicles from 2004 to 2015 have been reported.
Another 5.4 million inflators manufactured by Takata have been recalled this year.
Takata knows its problem, and it admitted it last November to the cost of a $70 million penalty. It also agreed to stop making inflators that contain aluminum nitrate. But the agreement hasn't been enough. The company is still being investigated by the National Highway Transportation Safety Administration (NHTSA) for further issues and a potential lack of compliance.
Thee main reasons for Takata's faulty airbags are poor welding, improperly manufactured parts and the aforementioned projectile metal shavings. Takata airbags are installed in several manufacturers' vehicles, Acura to Honda, Infiniti to Toyota.
Shigehisa Takada, the CEO of Takata simultaneously accepted the blame for the problem and apologized to families affected by the tragedy.
But the problem hasn't stopped.
Last September, Joel Knight, 52, died after his 2006 Ford Ranger pickup ran into a cow. His cause of death: A piece of shrapnel pierced his neck.
Takata confirmed the inflator ruptured in Knight's crash and It quickly declared 5.4 million more inflators defective.
What will happened next is unknown. Will Takata adhere to its promises? Will it be fined additional chunks of money but keep using the dangerous chemical?
Further perplexing: Why the company would use the chemical How could it continue to make faulty airbags knowing the product was faulty the reason for lost lives?
Click to read more
and watch the video
or