New BlackBerry Priv is company's 1st Android capable phone
Company putting a lot of stock in new Priv with hopes it will pull it out of smartphone hole.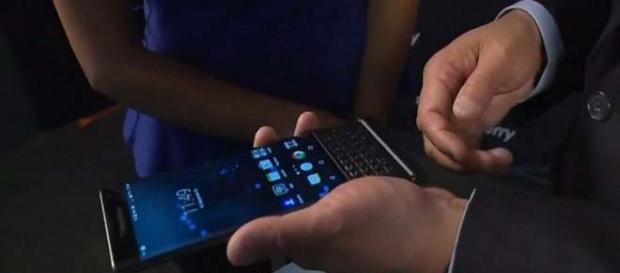 BlackBerry has introduced its first Android smartphone called the Blackberry Priv, which runs Android 5.1.11. Lollipop. With the Blackberry OS now ranking 5th in worldwide rankings for smartphones, the Blackberry Priv is a product the company hopes will help it to be more successful, otherwise rumors say Blackberry could get out of the hardware business altogether.
This is the first time in several years that Blackberry has put out a phone that may let it win back the loyalty and money that it has lost over the past few years, say critics. The new Blackberry Priv is getting pretty good reviews so far, but not everyone is praising the newly-released model.
Blackberry's new Priv's main features
The Priv has a 5.4-inch 2560x1440 display covered in Corning Gorilla Glass 4, with a hexa-core Qualcomm Snapdragon 808 processor, 3 gigabytes of RAM and 32 gigabytes of expandable storage. The rear facing camera is 18 megapixels, and there is a two megapixel camera on the front. Additionally, the phone is a mere 9.4mm thick and weighs 192 grams.
Blackberry Priv getting mixed reviews from users
The new Blackberry Priv is now in the hands of reviewers who are trying it out and the results have been mixed. First, several users praised the Priv's physical keyboard, with one user being able to type 60 words a minute compared to only 45 on an #iPhone model since the Priv has a physical slide out keyboard.
Another user praised the Priv's curved screen and the phone's camera, but didn't like the keyboard because its touch gestures are not the same as those that were used on the Blackberry Classic, thus making the feel different.
However, the user said that overall he thought the Priv was Blackberry's best looking phone ever.
Yet another user said the keys were rather small, and that even with the Snapdragon 808 processor and BlackBerry Hub custom software, the phone seemed slow and dated. Additionally, the Priv is quite costly at $700.
Blackberry sales down vs. Apple sales
BlackBerry needs to make a hit with the new Priv, as it sold a mere 800,000 handsets in the last quarter compared to Apple shipping out 13 million new iPhone S handsets. BlackBerry's CEO John Chen said the company is aiming for a sale of five million Priv handsets to be sold in the next year. So, time will tell if the new Blackberry Priv will be a hit or a miss for the company and help it get higher in the smartphone niche once again. #News #Apple