iPad Pro finally arrives in stores, but is it worth it?
Apple's giant tablet will be available in retail stores across the country later this week, starting at $799.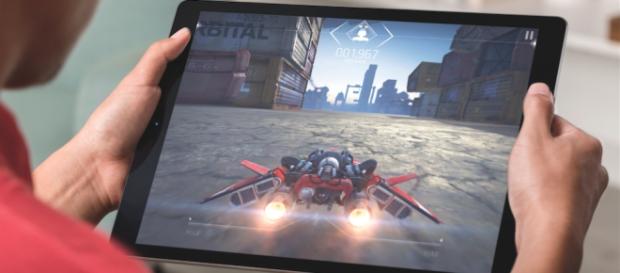 Exactly two months after the news conference where it was first unveiled, the new iPad Pro is ready for prime time. Apple has just announced that the monster gadget will hit stores on Friday, November 13, with pre-orders available online as of Wednesday. The 12.9 inch, retina display tablet will be sold through Apple Stores, authorized resellers and select carriers. Prices start at $799, a few hundreds above the latest iPad Air 2 – which starts at $499 (16GB) and goes up to $699 (128GB). 
Here's the problem: iPad sales have been crumbling down for the past seven quarters, and the latest report showed a disastrous 20% decrease.
Apple now sells under 10 million iPad a quarter, and the Pro is an effort to revive the category; the company seems bullish on the new model. 
Can the Pro revive sales?
"The early response to iPad Pro from app developers and our customers has been incredible, and we're excited to get iPad Pro into the hands of customers around the world this week," said senior vice president of worldwide marketing Phil Schiller, in a statement released by the company. He touted the Pro as "the most powerful iPad we've ever made," with its 64-bit A9X chip and 10-hour battery life, and added users will be able to get more creative with it.
Of course, that's due to the two not-so-little helpers Apple has introduced, the Smart Keyboard that doubles as a cover and the Apple Pencil, a stylus to draw with precision on the tablet.
Two additions that arch-rivals Microsoft and Samsung have been offering for a while now. 
iPad Pro vs Surface Pro 4
In fact, Microsoft is now Apple's biggest threat in this area, not in volume but in concept. IDC predicts tablet sales will fall 8% this year, but hybrids or 2-in-1s are becoming increasingly popular – and Microsoft struck gold with the Surface Pro among students and professionals, which is the category Apple is going for with the iPad Pro. The Surface Pro 4 was released October 26 and the Surface Book, Microsoft's first laptop ever, is getting rave reviews despite the expensive price tag (starting at $1499). 
The iPad Pro is getting a huge simultaneous release, reaching 40 countries and territories on Friday, from the U.S. to Japan, Russia and Australia. The Smart Keyboard will cost $169 and the Apple Pencil is priced at $99. If you buy it all, you're looking at a $1067 purchase. It's more than the $999 you'd pay for the 13-inch MacBook Air. Is it really worth it? Depending on the apps developers come up with, it might be – but for a very specific segment of consumers. The holiday shopping season should clear up just how compelling Apple's case is against Microsoft's Surface Pro 4. 
Click to read more
and watch the video
or