Delivery Robots can Be the Parcel Service of the Future
Robots can help reduce carbon dioxide exhaust for small displacements.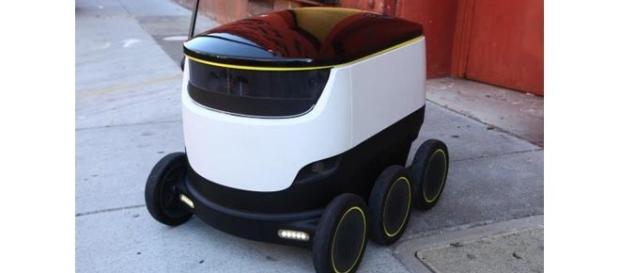 No more parking problems if you have to rush to the store to get your groceries: with the new delivery robot, local shops will have the potential of making deliveries to your door without even leaving their shop.
Starship Technologies, a new company of Janus Friss and Athi Heinla, the two founders of Skype, came up with a new self-driving vehicle that can make small deliveries in a suburban area.
The possibilities are endless:
You can order your groceries at the supermarket and have them delivered at home at any time: the robot can carry up to two grocery bags.
You can ask the shoe store to send you 5 pairs of shoes, try them on at home and return the ones you don't like.
The delivery robots can be a great help for disabled or elderly people or for those who can't leave their home.
This opens a lot of options for small stores that otherwise can't compete with the online companies.
The robots run on the sidewalks at a speed of 4 miles per hour, like a pedestrian. They can stop at traffic lights and detect and avoid obstacles. The technology is the same as self-driving cars, only much cheaper.
The customer can have his parcel delivered at a time that suits him best, not merely office hours. When the robot arrives at your home, the locked container can only be opened with a code provided by an app on your smartphone.
The delivery is 10 times cheaper than with conventional parcel delivery alternatives and is more eco-friendly. The robot uses less energy than a light bulb and the battery runs up to 1 hour. No more trucks stuck in traffic or parking problems, less carbon dioxide exhaust.
The operator at the shop can see through the robot's eyes and intervene at any time.
Starship Technologies hopes to launch the robots next year in the UK and the U.S. and to commercialize them fully in 2017.
The only problem might be local regulations per country.
The advantage of the robot compared with drone deliveries is that many countries don't allow drones in their air space. Also people still feel very uncomfortable with drones flying around. Another advantage is that the robot can handle much higher weights. On the other hand, drones can be very efficient for making small deliveries in distant, hard-to-get-to areas. There will probably be a future for both systems.
Click to read more
and watch the video
or