Accidental leak of Lumia 950, 950 XL, 550 and continuum display dock confirmed
Rate this title
The new series of Lumia smartphones with Windows 10 Mobile will be available soon. However, the images and specifications have been leaked.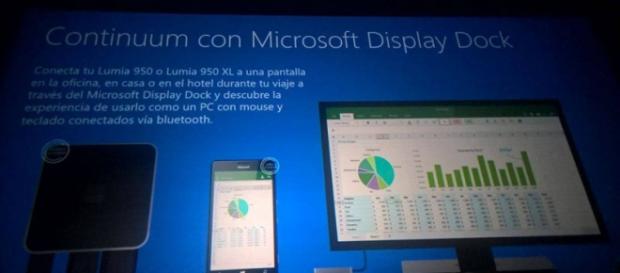 Microsoft products will always end up in some kind of controversies at the time of its release. How many times you have heard of Windows 10 leaks? It's now official that slides of an internal presentation about Microsoft's upcoming flagship handsets has been leaked to a section of media. This News has been confirmed by Paul Thurott, leading reporter on Microsoft related developments.
According to unconfirmed sources, the specifications and images of Lumia 950, Lumia 950 XL, Display Dock and Lumia 550 has been leaked while Microsoft is expected to release these devices on October 6. There are reports that Microsoft had posted the images and specifications of both Lumia phones on the official shopping store.
As of the time of this writing, we are unable to see any such information. It seems that Microsoft might have removed them.
As many as six photos from the slides have been published to Nokia Forever Latinoamérica on Facebook. Moreover, a new post has been posted with details of Lumia 550, which is a low budget new Smartphone expected to be released by the end of October. The posts have appeared on Facebook in Spanish language although tech enthusiasts have translated it into English using modern technologies.
Lumia 950 sports a 5.2 inch QuadHD IPS display powered with Qualcomm Snapdragon 808 hexa-core processor. The device has a 20 MP PureView camera with optical image stabilization and natural dual flash. Lumia 950 also includes a 5 MP HD wide angle secondary camera, which we hope will be suitable for capturing accurate selfies.
Do you want to play for a long time without any lags? The Lumia 950 has an ample 3GB memory with 32GB internal storage capacity, sufficient for a large number of photos, videos and ebooks. The 950 will have Windows Hello technology with support for Iris recognition.
Nowadays, apps and other features consume large battery. If you use WiFi you will be required to charge the smartphone once in every day. But the Lumia 950 has a large 3000 mAh battery with USB C support.
As you can guess from the name, Lumia 950 XL ships with almost same specifications as its little brother - Lumia 950. The difference is that the QuadHD IPS display is larger with 5.7'. We expect the 950 XL to ship with a 6' or 7' display because users always crave for more screen real estate.
If you already own a Lumia 1320 then you need not have to invest on a 950 XL unless you require more memory and internal storage. However, we feel that Lumia 950 XL will be priced $50 less than Lumia 1320 because of the screen size.
The specifications of Lumia 550 are also leaked. The device will have a 5 inch HD display with Gorilla Glass 3 and is powered with Qualcomm Snapdragon 1 GHz quad-core. Lumia 550 will have a 5MP primary and 2MP secondary cameras. However, the storage is only 8GB, expandable to up to 128GB. The battery capacity of Lumia 550 is also less with1905 mAh capacity.
You can also expect Microsoft Continuum Display Dock which will be compatible with Lumia 950 and 950 XL. The dock enables you to connect your smartphone to a PC monitor and work as if you are using Windows.
Microsoft has provided the source code of Windows Phone to leading mobile companies which enable them to manufacture their own branded Windows Phone. However, the quantity of Windows smartphones is much lower compared to Android. We hope Microsoft will release several Lumia branded smartphones and low cost Windows tablets in the upcoming months.
We still wonder how and through which source the images and specifications were leaked to the media. It can also be that of handy work of an insider to generate hype and publicity about the upcoming Lumia smartphones.
Click to read more
and watch the video
or