India Prime Minister Narendra Modi Joint Townhall Q&A with Facebook CEO Mark Zuckerberg
Rate this title
The upcoming session between two personalities will be the first step in right direction towards effective usage of social media for social causes.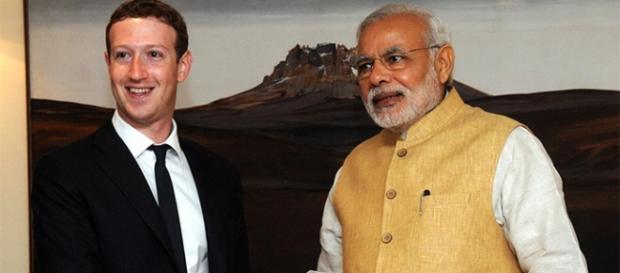 Mr. Narendra Modi, Prime Minister of India, will participate in a Townhall Q&A on September 27, 2015 at 9:30 AM Pacific time. The session will be held at the Facebook headquarters in Mountain View, California. The Q&A session will be attended by none other than Facebook CEO Mark Zuckerberg.
The main aim of the Q&A session will be to discuss how communities can work together to address social and economic challenges. According to reports, several global issues particularly various economic and social topics will also be discussed during the Townhall Q&A. The session is expected to last over two hours.
Several Indians in America - particularly in the Silicon Valley area - will attend the Townhall Q&A since they consider Narendra Modi as the most proactive leader of recent times.
Moreover, Mr Modi has a huge fan base in various social media platforms such as Facebook and Twitter. He is also active on Instagram.
Zuckerberg was first to break the news on his official Facebook page
I am excited to announce that Prime Minister Narendra Modi of India will be visiting Facebook HQ later this month for a Townhall Q&A. Prime Minister Modi and I will discuss how communities can work together to address social and economic challenges. It is only for the second time that Zuckerberg will have a town hall with a world leader at Facebook headquarters.
Zuckerberg had met Narendra Modi during his last visit to India in October 2014 and he posted on his wall as follows:
I had the chance to visit Prime Minister Modi in India last year and it's an honor to have the chance to host him here at Facebook.
Zuckerberg has requested his followers to post questions which should be asked to Indian Prima Minister and Narendra Modi shared the News on the official Facebook page:
I thank Mr. Mark Zuckerberg for the invite to visit the Facebook HQ. I look forward to the Townhall Q&A on Sunday 27th September at 10 PM IST (9:30 AM Pacific time). The interaction will cover a wide range of issues and will surely be a memorable one.
This programme will be incomplete without your participation! Share your questions on Facebook. I urge you all to share your questions on the 'Narendra Modi Mobile App.' Your questions will make this a programme to be remembered..
Both Zuckerberg and Modi will share the complete video on their official social media platforms.
I feel that this is a great opportunity for a political leader from India to address a global audience. Moreover, it will not be a big surprise if Mr. Modi hosts a joint radio podcat code named 'Mann Ki Bhaat' with Zuckerberg like he did with Mr. Barack Obama in January. In addition to Facebook event, Mr. Modi is also expected to visit several leading companies in Silicon Valley. 
Please post your questions below and I will share them on the official Facebook page of Narendra Modi. We as a community should work together to provide great questions.
Click to read more
and watch the video
or