Amir Khan believes trainer gives him edge ahead of Alvarez fight
Khan says Virgil Hunter's teaching and calm demeanor will help him capture lineal middleweight championship on Saturday against Canelo.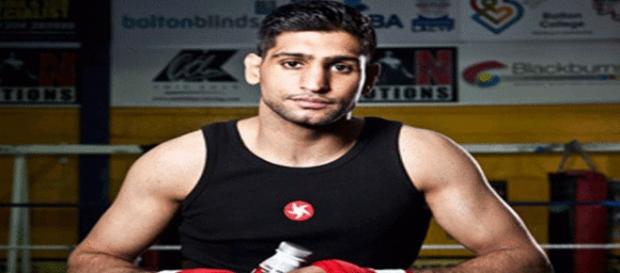 Amir Khan, a former junior welterweight titlist, is attempting to become the lineal middleweight champion on Saturday night in Las Vegas. Khan will be a heavy underdog against Mexican superstar Saul "Canelo" Alvarez, but said the confidence he has in cornerman Virgil Hunter is indispensable heading into the biggest fight of his life.
"Virgil is a very good trainer," said Khan. "He is really good at making sure I don't make any mistakes, and that I'm a fighter who is always working hard and is focused." Khan is an immensely talented fighter, but he's been knocked out twice in his career due to defensive lapses that point toward an overall lack of focus.
Under Hunter, Khan said he feels completely on top of his game. 
The fighter, age 30, believes Hunter gives him a new edge, one he didn't have before under the tutelage of former trainer Freddie Roach. "One thing about Hunter is that I respect him. He's a good teacher, and he's always teaching me new things. It's just something I really needed, something I needed for a long, long time."
Since making the switch to Hunter in 2012, Khan has enjoyed a five fight win streak, the last of which came against Chris Algieri earlier this year. Khan credits Hunter's calm demeanor during fights as well his innate ability to encourage his fighters to do their very best. "He's one of the best out there. I'm very glad he's in my corner, especially for this fight. He drives me and pushes me to be my very best."
If you've seen Hunter in the corner between rounds, either with Khan or the other fights he trains such as Andre Ward, you know he can seem a very intense individual.
Khan confirmed it, but said it was not an erratic intensity. Rather, Hunter was the eye in the storm. Hunter could always be relied upon when things got hectic. 
"He's very calm. He's always calm, but if you make mistakes, he's going to shout at you. So when you fight, you don't want to upset him. You want to do everything right. I mean, he's a very nice guy. But he's a very serious coach and he loves the sport."
Khan will face Alvarez on Saturday, May 7. Since Floyd Mayweather and Manny Pacquiao are retired, the winner of Canelo vs. Khan should have the inside track to become boxing's biggest superstar. The bout will be telecast  live on HBO PPV as well as select movie theatres. The card begins at 9 p.m. ET.  #Celebrities #Buzz