MLB Playoffs: Will these three youngsters push their teams into the post-season?
Rate this title
Hot gloves, bats make Astros, Braves and Indians shortstops the ones to watch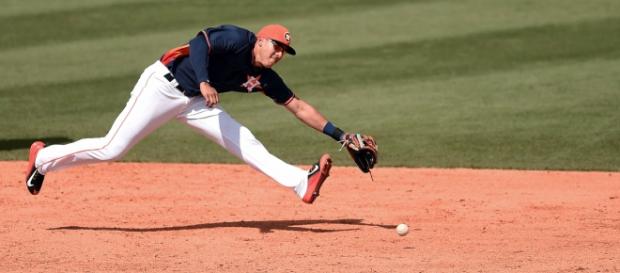 Who will Major League Baseball pick as the Rookie of the Year? Here are three up and comers. 
1. Carlos Correa
Born in 1994, Carlos Javier Correa, Jr. is turning heads as potentially one of the great players.  He was an honor roll graduate of the Puerto Rico Baseball Academy and High School, and was drafted first overall by the Houston Astros in the 2012 MLB Draft. 
In his first season in the big leagues, Correa has racked up an impressive number of accomplishments, winning himself the American League's Rookie of the Month award for June.
The following are some of Correa's accomplishments this season:
In his ninth game, he stole 3 bases, becoming the second-youngest player to do so in a century (the first being Rickey Henderson)
Most hits through first 10 career games (14)
Most hits through first 15 career games (20)
Most doubles through first 20 career games (9)
Second highest number of extra-base hits since 1993 (Correa hit 5 home runs, for a total of 14 extra-base hits)
Tied with two other players for reaching base safely in 18 out of his first 20 games
Led the American League in home runs by shortstops by his 42nd game (40)
First shortstop in a century to hit 9 home runs in his first 42 games
First to hit 12 home runs within his first 46 games
The following are Correa's statistics for the season:
BA OPS 2B HR RBI R WAR
.286.892 14 13  34  30  2.9
2. Nick Ahmed
Nick Ahmed is currently on his second year in the major leagues, and has proven himself to be worthy of keeping an eye on so far.
Born in 1990, he is no stranger to baseball having played in the minor leagues for the Lynchburg Hillcats, where he earned himself the title of fastest baserunner in the league.
He currently plays shortstop for the Atlanta Braves, drafted 85th overall in the second round of the 2011 MLB Draft.
The following are some of Ahmed's achievements this season:
3rd in National League for defensive WAR (2.2)
3rd in National League for putouts as shortstop (140)
5th in National League for double plays turned as shortstop (61)
3rd in National League for total zone runs as shortstop (10)
23rd in MLB for total zone runes as shortstop (8)
The following are Ahmed's statistics for the season:
BA OPS 2B HR RBI R WAR
.229 .629 10 7  26  37  2.2
3. Francisco Lindor
Francisco Miguel Lindor is a shortstop for the Cleveland Indians.
He was drafted eighth overall by the Indians in the first round of the 2011 MLB Draft, at the mere age of 18 (Lindor was born in 1993). 
Lindor has proven himself to be an all-rounded player, making waves both in terms of defense and offence.
The following are some of Lindor's accomplishments to date:
Best Hitter for Average in the Cleveland Indians system (2011)
Best Defensive Infielder in the Cleveland Indians system (2011)
Best Defensive Shortstop in the Midwest League (2012)
Best Strike Zone Discipline in the Cleveland Indians system (2012)
Best Defensive Shortstop in the Eastern League (2014)
Best Infield Arm in the Eastern League (2014)
The following are Lindor's statistics for the season:
BA OPS 2B HR RBI R WAR
.258 .669 7  5  19  16  0.7
Click to read more
and watch the video
or