One Piece Chapter 132 spoilers: The court is in turmoil
Chapter 132 sees Caesar Clown on the cover as he writes a member search notice to create a new lethal weapon.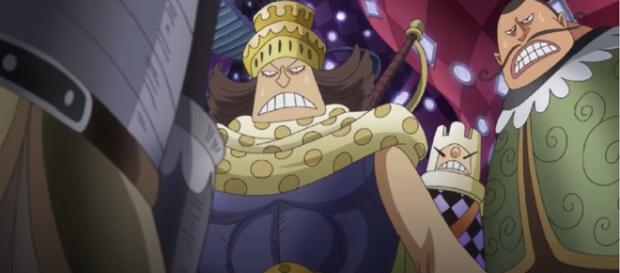 "One Piece" Chapter 32 is just a few days away from being released. However, the details, regarding the upcoming chapter of the anime, are floating around the internet. Meanwhile, Komurasaki had already entered the Orochi court, while Robin was looking for the Poneglyph in the castle. On the other side of the country, Sanji was busy fighting with one of Kaido's subordinates, Page One. "One Piece" Chapter 32 takes up all the narrative threads present in the past and makes them evolve.
Chapter 32 explained
"One Piece" Chapter 32 is expected to show fans a character that has not been seen for a long time, that is Caesar Clown.
The old antagonist is looking for a customer to sell his weapons to, but all handwritten notices from the bearer of the gas fruit are eaten by some goats.
At the court of Orochi, which is in the capital of flowers, begins the show of Komurasaki, but the scene immediately focuses on Robin. The girl had been discovered by the group of ninja lurking in the castle and is assaulted. However, Nico Robin had already prepared a clone thanks to the power of his Devil's Fruit. On the other side, Robin returns to the court and is warmly welcomed by Orochi, who tries to steal information about Onigashima, Kaido's headquarters. Meanwhile, Kyoshiro is acclaimed for his ability to find and breed excellent courtesans and for his sword skills from the same shogun.
Curse of Toki
Also during the banquet, Orochi launches into a speech where he states that the twentieth year has come from the curse of Toki, and therefore the revenge of the Kozuki clan is about to arrive. Everyone is thoughtful and doubtful, having the shogun already praised these words over and over again. Kyoshiro, on the other hand, says he is available to fight with Kinemon and any other Kozuki samurai at home, something that Orochi likes.
The legend, however, provokes the laughter of O-Toko, the courtesan who accompanies Komurasaki, unleashing the wrath of Orochi.
But this abscess of anger is amplified by Komurasaki, who slaps the shogun and provokes its transformation into the legendary multi-headed snake. In the chaos, even the ninjas come looking for Robin and a Kyoshiro on the sidelines begins to draw his sword. It will be interesting to see how things move from this episode.
"One Piece" chapter 933 will return on January 18 on the pages of Weekly Shonen Jump. The details, for this episode, are yet to come. Stay tuned for more news and updates on anime.
Also, don't forget to follow Blasting News entertainment channel.
This news article has been verified through:
https://www.gamenguides.com/articles/one-piece-chapter-932-spoilers-predictions-and-release-date-6168/
https://www.econotimes.com/One-Piece-Chapter-932-Release-Date-Spoilers-Choppers-Greatest-Test-Nami-Fools-Big-Mom-1494036