Super Dragon Ball Heroes new arc to feature Jiren the Gray
It appears that the mini anime series is going to be more explosive this time with Jiren the Gray joining the fray.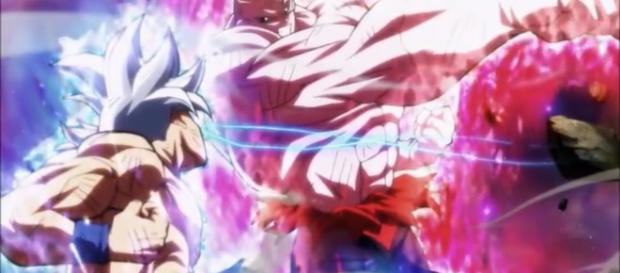 The latest mini-anime series, "Super Dragon Ball Heroes," that serves to fill in the gap that the popular anime series "Dragon Ball Super" left, to many fans, is going to be more explosive with a new powerful character that will be in its future episodes. If given the chance, many fans would want this character to be in the upcoming episodes and arcs when the popular anime series returns on the airwaves.
Latest news
Most recently, "Super Dragon Ball Heroes" released the synopsis of its new arc titled "Universal Conflict." It was captured and was uploaded on Twitter by Cipher.
The latest arc's key visual shows Son Goku along with Jiren the Gray and Hit. Son Goku is in his Ultra Instinct form but the strongest Pride Trooper is clad in his usual uniform looking calm and peaceful. Of course, Jiren is always calm, but fans who saw him fight until the end of the Tournament of Power of "Dragon Ball Super" know how powerful this silent fighter is.
New arc's synopsis
The synopsis did not reveal anything about Jiren's role in the latest arc of the promotional anime series. But, fans are already guessing that he will be fighting alongside the most powerful assassin, Hit, and Son Goku this time.
According to the synopsis, Trunks, Vegeta, and others have successfully escaped Fu's Prison Planet. Before they can even heal from their acquired wounds, they received word that the twin universe of 7, Universe 6, is under attack.
The synopsis goes on, asking what is waiting for the Prince of All Saiyans Vegeta and his team as they go to Universe 6 to fight against its enemy? It was not revealed who they are going to fight against. The synopsis also reveals that there will be a fierce battle that will involve the strongest warriors of every universe. This could mean that another Tournament of Power-like event is going to happen with each universe pitching their strongest and most powerful warriors.
Anime movie
The "Dragon Ball Super: Broly" movie already debuted in Japan in December 2018. It has landed on the top spot and has already earned around $18 million in sales. It will be released in the US and UK on January 2019.
Meanwhile, the promotional anime "Super Dragon Ball Heroes" is available on the YouTube channel although the team behind it does not reveal when exactly it is going to be available online. You can check out the video below showing the most recent episode of the promotional anime series.
This news article has been verified through:
https://twitter.com/Cipher_db/status/1078932832221720576/photo/1
https://comicbook.com/anime/2018/12/31/super-dragon-ball-heroes-anime-jiren-return/
Click to read more
You will watch a video to read the news
or