Super Dragon Ball Heroes, Episode 8 Synopsis: Trunk's in trouble, Haatsu appears
The fans of this anime will have to wait at least a month to watch episode 8.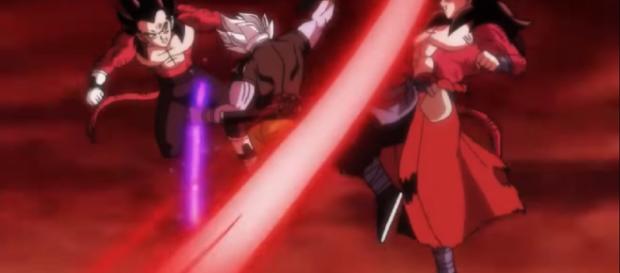 On the official website for the "Super Dragon Ball Heroes" series, the seventh episode has been made available and the first information on episode eight has begun to appear on the same site. A synopsis of the upcoming episode has been made available recently, which has indicated the upcoming battles.
'Dragon Ball' Synopsis
Apparently, fans of "Super Dragon Ball Heroes" will have to wait at least a month to watch episode 8. According to information disclosed by the official site, the next animated chapter will arrive in February 2019, without a specific date.
The episode will be titled "The worst invasion of war! The annihilation of the universe 6!" Here is the synopsis of the upcoming episode, "The combination of attacks by Oren and Kamin has troubled Trunks and the others. In the middle of the fight, a central area warrior, Haatsu, will appear and a shocking plan will be revealed."
What happened to Goku?
To those who don't know, "Dragon Ball Heroes" is a Japanese videogame from 2010 that in 2016, saw the name changed to "Super Dragon Ball Heroes" following improvements to the graphics and other gameplay additions.
The anime from the series follows adventures on Planet Prison and made its debut on the internet on July 1, 2018.
On January 10, the anime returned with a new episode, the seventh in the series. In that episode, the presence of our beloved protagonist, Son Goku of Universe 7 was missing. What happened to him? At the end of episode 6, Son-kun was left at the mercy of the exploding Prison Planet, following a duel with Kanba and the appearance of Zamasu with the Tsufuru in tow.
The episode ended with poor Goku in desperation a moment before the Prison Planet collapsed.
At the moment we have no idea what happened to the protagonist, since during the seventh episode -- set in the Universe 6 -- there was no trace of Kakaroth, while both Vegeta and Trunks of Universe 7 had launched a mission to rescue Hit, Kale, Caulifla and Cabba from the twins, Tsufuru.
It is likely that Son Goku managed to save himself from the explosion using teleportation, but the reason why he has not yet revealed himself to his companions remains unknown. In episode 7 of "Super Dragon Ball Heroes," fans saw a version of Xeno Goku of the Storm Patrol who helped the Z Warriors in the battle against Fu and Kanba.
Episode 8 of the series will be released in February. I will keep you posted regarding every happening of "Dragon Ball Super." Stay tuned for more anime news updates.
This news article has been verified through:
https://comicbook.com/anime/2019/01/10/super-dragon-ball-heroes-episode-7-watch-anime/
https://www.funimation.com/shows/dragon-ball-super/how-dare-you-hurt-my-bulma-vegetas-sudden-angry-shift/
Click to read more
You will watch a video to read the news
or