Dragon Ball Super: Broly: New leak suggests the return of Gogeta in the movie
The fan-favorite fusion might make an appearance in the upcoming movie.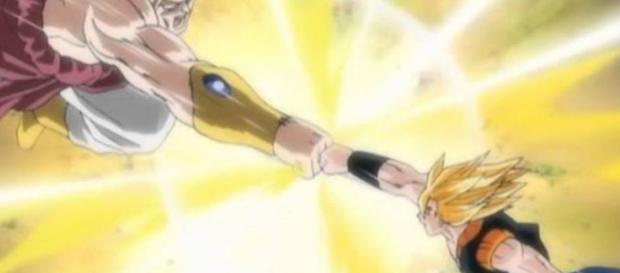 The past few days were really surprising for "Dragon Ball" fans when the details about new battle animation and the addition of new characters started to leak one after another. Later this year, Akira Toriyama will finally make Broly canon when "Dragon Ball Super: Broly" is released, but new leaks suggest that he might not be the only fan-favorite character that is returning to the original series.
New data mined info
Twitter user @komodoxeno did a data mine operation on the "Dragon Ball Xenoverse 2" and found out that four new characters are being added to the game with the next DLC titled as "Extra Pack 3."
This new info suggests that Baby Vegeta, Kefla, Broly, and Super Saiyan Blue Gogeta are being added to the "Xenoverse 2." It should be noted that the DLC pack doesn't have an exact release date at this moment.
Gogeta Blue and DBS Broly Confirmend in the DBS Movie and XV2#DragonBallSuperBroly pic.twitter.com/mNLoC3Te0r

— Rénaldo | りす 🌟 (@Renaldo_Saiyan) August 28, 2018
The new Broly is being added to "Xenoverse 2" in honor of the new movie, but fans are curious about Gogeta being paired with him in this update. Although "Xenoverse 2" doesn't really follow the anime plot, it previously gave fans hints about Goku's Ultra Instinct form in the anime. So it won't be baseless to speculate that Gogeta will make an appearance in the upcoming movie and go all-out against Broly.
For those who don't know, Gogeta is a fusion of Goku and Vegeta which is achieved by performing the Fusion Dance properly.
Gogeta is known for his speed and power, and he made his first appearance in the "Dragon Ball Z: Fusion Reborn" in which Gogeta defeats Janemba with his iconic Stardust Breaker attack.
The possible addition of Gogeta
"Dragon Ball Super: Broly" trailers and teasers proved that Broly is going to be the strongest opponent that Goku and Vegeta have faced till now, and it is out of the question that Frieza will join them (again) in their fight.
Considering his arrogant nature, he'll just watch these Saiyans fight among themselves. So the only trump card that these two Saiyans have is their fused form. We've already seen Vegito in his Super Saiyan Blue form, so if Gogeta, by any chance, makes it to the upcoming movie, it's likely that he'll turn into Super Saiyan Blue.
According to Comicbook, Toei Animation will be screening three "Dragon Ball Z" movie before the release of "Dragon Ball Super: Broly." One of the movies is the first Broly film.
As for the other two movies, one explains Bardock's story and the other is "Fusion Reborn."
"Dragon Ball Super: Broly" is set to be released on December 14, 2018, in Japan. Funimation has acquired the theatrical rights for the movie and is planning to release it in the United States and Canada in January 2019.
This news article has been verified through:
https://comicbook.com/anime/2018/08/28/dragon-ball-super-broly-gogeta-super-saiyan-blue-leak/
https://comicbook.com/gaming/2018/08/28/dragon-ball-xenoverse-2-leak-broly-super-saiyan-blue-gogeta/