'Dragon Ball Super' shows new Broly design, new trailer to drop at San Diego Comic-Con
First look at Broly in the latest 'Dragon Ball Super' movie has finally been revelaed.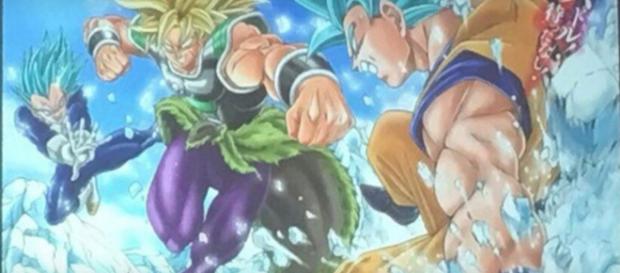 Last week, Toei Animation surprised fans when they made the announcement that they and Akira Toriyama were finally adding Broly to the list of canon characters of the anime.
After a series of leaks and teasers, the first look at the "Dragon Ball Super: Broly's" main antagonist has been shared by the official Twitter for Shueisha's V-Jump. Fans only got to see a small glimpse of the new design in the first trailer for the movie and the poster that was revealed a week ago, but this is our first full look at Broly and his multiple costumes [VIDEO] in the new film.
New images from the movie
This new version of Broly is also designed by Akira Toriyama and his origin story has been reworked as well, which means that the previous movies which featured Broly are not a part of the main series. Below is a close-up shot of the figure at the Jump Victory Carnival:
Close up. pic.twitter.com/kNKVhBPZ0z

— 부드크퍼 TDC (@DBReduxTDC) July 16, 2018
In this figure, Broly looks like a normal Saiyan, but the armor that he wears looks similar to that of Tagoma's. The plot of the movie might revolve around Frieza pitting Broly against Goku and Vegeta because he couldn't defeat them all by himself.
i just noticed that he has similar armor to tagoma, idk if that's a coincidence or not but maybe frieza found him and recruited him? (i haven't really heard any info about the movie so if this does happen, i didn't know) pic.twitter.com/dZGixllCfc

— berto 🐝🌹 (@bertt_o) July 16, 2018
とよたろう先生描き下ろし pic.twitter.com/fQHN5fumMF

— ウルティマ (@Lord_Towa9377) July 16, 2018
The second image shows Super Saiyan Blue Goku and Vegeta fighting Super Saiyan Broly on an icy terrain. This is definitely Toyotaro's art.
Power up. pic.twitter.com/3qfXLdMTNt

— 부드크퍼 TDC (@DBReduxTDC) July 16, 2018
This design of powered-up Broly is similar to the one in "Broly - The Legendary Super Saiyan."
Why is Broly wearing a Freeza Force armor?
According to Hype Beast, this new Broly is wearing a Frieza Force armor instead of the mystic armor that he wore in "Dragon Ball Z" movies.
and a Saiyan ally of Frieza is totally ridiculous. This alliance of a Saiyan with Frieza has sparked a lot of questions in the Dragon Ball community.
In his official comments about the movie, Akira Toriyama said, "It also involves the Frieza Force and the history of the Saiyans." This movie will finally explain the origins of the Saiyans' strength and the relation of Frieza with the Saiyan race.
According to Comic Book, the series will undergo a major makeover after this movie, due to the the inclusion of Naohiro Shintani.
That will include a new logo and character designs. This talented animator was brought in by Toei Animation to work on key animation in the movie. Akira Toriyama also loved his work, and now, he'll be contributing to the movie's script and come up with his own original chara ter designs as well.
"Dragon Ball Super: Broly" is set to be released on December 14 in Japan, and Toei Animation will be releasing the movie in the US and Canada in January 2019.
This news article has been verified through:
http://comicbook.com/anime/2018/07/16/dragon-ball-super-movie-broly-design-new-revealed/
https://hypebeast.com/2018/7/dragon-ball-super-broly-character-designs