'Dragon Ball Super' Movie 2018: Official video reveals animation and new designs
An amazing video reveals what the new animation looks like, including new designs for Vegeta, Picollo, and Bills.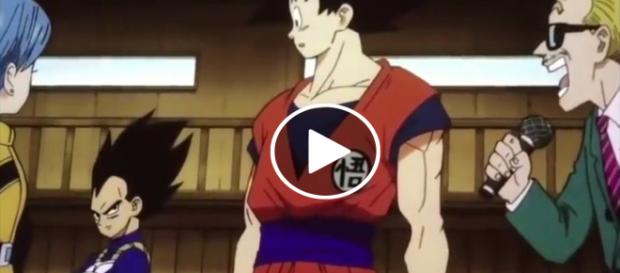 Today has been a day of many interesting revelations. First of all, it was revealed that a new "Dragon Ball" anime would premiere in July. Aside from that, some amazing news about "Dragon Ball Super: The origin of The Saiyans" was revealed. Here, we have all the information for you.
Promotional video
Vídeo OFICIAL muestra la nueva animación de #DragonBallSuper! Mírenlo y díganme que les parece. A mi parecer es medio infantil pero me agrada. pic.twitter.com/a0nHZtGBl2

— Dragon Ball Super (@DBSuperOK) 17 de mayo de 2018
In the last few days, a video was released that shows us the animation we'll see in the next "Dragon Ball Super" movie.
The video was revealed yesterday and it is from the introduction of the movie "Dragon Ball Z: The Real 4D." These scenes premiered before the movie, as an introduction to it.
Some changes in the animation
The changes that we see in the design of the characters -- as well as in the animation -- are noticeable. Firstly, we see Vegeta and Picollo. Many fans have waited a long time to see Vegeta in this new style in terms of animation, and many fans are happy with the design. However, that's not all, as a new advertising poster reveals Goku and Vegeta in the Super Saiyan transformation with this animation style.
You can check out the design below:
Diseños oficiales de la película de #DragonBallSuper! #Vegeta, #Goku, #Picollo y #Bills y #Wiss. ¡FALTA POCO!

---
Official designs of the #DragonBallSuper movie! #Vegeta, #Goku, #Picollo and #Bills and #Wiss. ALMOST THERE! pic.twitter.com/A91GrDEv5J

— Dragon Ball Super (@DBSuperOK) 17 de mayo de 2018
As you can see, not only do we have Goku and Vegeta, but Picollo, Beruus, and Whis also appear in the poster. Clearly, the two Saiyans are the ones who stand out the most, as they are transformed into Super Saiyans, while Picollo and the gods are featured in the background.
The design remains faithful to the old style of animation, a style that was seen in "Dragon Ball Z." It's a more basic and simple design, not robust and muscular like we saw at the end of the Tournament of Power saga, which featured excellent animation.
An interesting fact about Vegeta's design is that we see that his suit is no longer blue, but it has taken on a stronger tone. In my personal opinion, I like this one more than the previous one. On the other hand, Goku has his typical orange battle suit, while Beruus, Whis, and Picollo have not been modified.
There are still no official translations regarding what the advertising poster says. It must not be as important, because if it were relevant, it would have been translated quickly. Even so, the new designs are both revealing and interesting.
What do you think of the new designs? What do you think will be revealed about them in the near future? Are you excited for the new "Dragon Ball Super" movie?
That's all the news worth sharing at the moment, but stay tuned for more news as it becomes available.
In the meantime, watch a trailer below:
EXCLUSIVO! Nuevo Adelanto (Teaser) de la película de #DragonBallSuper!

---

EXCLUSIVE! New Advance (Teaser) from the #DragonBallSuper movie! pic.twitter.com/BMCq1rABE3

— Dragon Ball Super (@DBSuperOK) 20 de marzo de 2018