Shallot is an enemy who has come to confront Goku
This new character, who seems to be someone else from the past, is of the same race as Goku and attacks his life.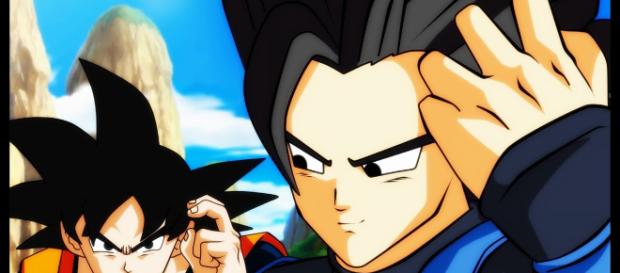 The special report of the new "Dragon Ball Super" film will be revealed as soon as possible. The current enemy is a Saiyan warrior. In the final story of the anime, which premiered on television on March 25, the animation showed a final scene in which we got to know the presence of a new Saiyan. The Special Report begins with a word of Goku's welcome home to warm up to a new enemy on the front.
The visual of the upright enemy, who is shown as a figure carrying a green aura, is undoubtedly a saiyan.
Akira Toriyama commented on the existence of a new enemy, but who is this particular enemy? What's the story of the movie? In this story, Goku's fate will be used after the final story of the TV anime, the strongest battle of the Saiyan Race: The origin of the force of Goku.
Chalote
The first primitive Saiyan of Universe Seven, whose warrior once inhabited the planet Sadala long before the migration of the Saiyans to the planet Vegeta. His name is Shallot and he was confused with Yamoshi during the last few weeks.
Basket Warrior, of course, has been created by Toriyama himself, so he is expected to play a leading role in the events that are about to happen and with some luck, perhaps also in the new film and/or future events of the franchise.
At the moment, Shallot is an exclusive character of the popular "Dragon Ball Legends" game and has some features and personalization options, to the point of being able to change your outfit at your whim. That is why the official site shows us a first glimpse of how it would look like a shallot with Son Goku's outfit.
"Dragon Ball Legends"
Well, the pre-registration campaign for the acquisition of "Dragon Ball Legends" has been a real success. It's been open since March 21 of this year and has already reached and surpassed the million accumulated records. The original threshold was just half a million. So of course, there are many expectations of it.
As it seems, Shallot doesn't have anything to do with the apparent other new warrior that appears in that trailer. Yes, in the "Dragon Ball Legends" trailer, it also highlights the presence of a subject with armor, swords and apparent white hair.
If this guy isn't Shallot, then who could it be?
It is impressive as the franchise has come to the point of having more than three games out and is even rumored to be preparing a new one for the PS4 consoles. This clearly indicates the that number of fans in the franchise are continuously increasing.