'Dragon Ball Super': Latest web update may have given away the movie's setting
New background visuals have been added to the 'Dragon Ball Super' movie website.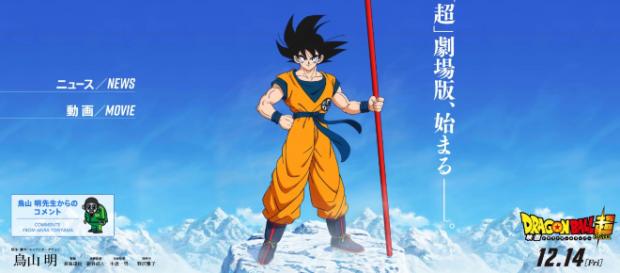 The weekly shows of the popular anime series "Dragon Ball Super" concluded on March 25. However, this momentary pause from the airwaves has not stopped fans from talking about the franchise. While it appears that the talk about the epic battle between Jiren the Gray and Universe 7's Son Goku, Android 17, and Frieza has slowly subsided, there are other topics that many fans are still talking about, including the mobile games that will be released this summer, and the much-awaited animated film that will be launched before the year ends. Interestingly, countless fans believe that the latest update on the movie's official website has already given away the film's setting.
Dragon Ball Super Movie Website Updated with Different Background Key Visual for DBS Movie 2018.https://t.co/uzT2GLxGBK pic.twitter.com/My7uJLBZvg

— GovetaXV (@GovetaXV) April 13, 2018
Latest update
Earlier today, the official Twitter account of "Dragon Ball Super" shared that fans can now check out the latest update of the movie's official website. Many fans noticed that there are little improvements that were made to the site. However, these little changes appear to have already given a clue as to where the upcoming animated movie will be set.
If you have already visited the movie's official website, checking it now will make you notice Son Goku standing on top of an icy mountain. During its launch, the site only displayed the movie poster, showing the fan-favorite Saiyan holding his power pole.
Frozen Land
The website appears to emphasize the relevance of the icy tundra to the movie as a whole. In the first-ever trailer released for the upcoming animated film several days ago, it is noticeable that Goku is in a place covered with ice.
The snow-capped mountains and terrain, and even the ground where Son Goku stands all underline that the place is on ice. Many fans believe that since Akira Toriyama already revealed that the movie will feature the origins of the Saiyans and Frieza, the place shown in the latest website update -- as well as in the trailer -- could be the Frozen Land, linking this to Frieza.
Frozen Land is the place where Frieza and his race used to live. The place became uninhabitable due to massive changes in the planet.
At present, the place serves as a prison for enemies and traitors of the Planet Trade Organization. While it is not yet known if the place will be the movie's setting, there is a great chance that it could be considering that Frieza will be one of the central figures in the upcoming animated film. "Dragon Ball Super" will be available in theaters in Japan on December 14, 2018.