'Super Dragon Ball Heroes': Goku's mastered Ultra Instinct blue aura images
Goku's new form is getting teased before 'Dragon Ball Super's' Episode 129.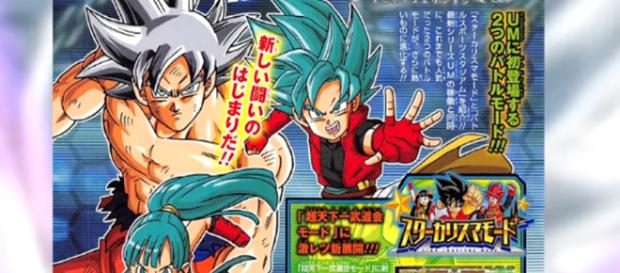 "Dragon Ball Super" fans eagerly await this weekend as the series returns after a one-week hiatus. The next episode will introduce Goku's perfected Ultra Instinct form for the first time in the anime, but the form is already being teased, little by little, ahead of the episode.
This sneak-peek has been unveiled by Japan's brand-new issue of Shueisha's V-Jump. The magazine included an advertisement for the upcoming "Super Dragon Ball Heroes" game update. It can be seen, from the scan, that Goku is totally shirtless in his mastered Ultra Instinct form and is preparing the Kamehameha wave.
This isn't the first time that V-Jump has teased this form. Recently, V-Jump confirmed that Goku's new form will be coming to "Dragon Ball Xenoverse 2" as a DLC add-on. It also mentioned Goku's two new attacks, Accelerated Fighting Spirit and God Super Dance. As of now, these moves are only exclusive to the game and may not be used in the anime at all, because the game and the anime are not connected in any way.
New addition to the game
Android 21 has been a big and most liked addition to "Dragon Ball FighterZ." Fans love her design because the character was drawn by Akira Toriyama himself.
V Jump pic.twitter.com/TetAO9tGgn

— ✨--- سباي #ΛT (@Spy_0taku) February 19, 2018
#21 will be joining in Universe Mission 2. pic.twitter.com/JIwEyWMe01

— Tony Redgrave TDC (@DBReduxTDC) February 25, 2018
This is a really great take on the character designs for MUI. pic.twitter.com/ihzlK8B9z3

— YonkouProductions (@YonkouProd) March 1, 2018
This new image shows the inclusion of Android 21 in "Super Dragon Ball Heroes" after the addition of Jiren, Ultra Instinct Goku, Fu (from "Dragon Ball Xenoverse 2"), and Future Trunks.
For those who don't know, the "Dragon Ball Heroes" series is a digital card fighting game, developed by Dimps. It is currently the No. 1 digital card game on the market and has more than 3,000 different cards. The game has over 1.8 million players and has sold over 700,000 copies on 3DS. The plot of the game has two arcs, Dark Demon Realm Saga and Assault on the Hell Gate Saga.
Coming back to the anime, ErrenVanDuine on Twitter shared a new image from the anime that showcases Goku's Ultra instinct form, similar to the one teased in the scan from the magazine.
DBS 129 preview image. pic.twitter.com/rXymnsO4Ld

— Erren Van Duine (@ErrenVanDuine) February 23, 2018
So far, this new form has only been shown in previews and teasers. In anime, it was fully revealed in the extended preview of Episode 129, which shows Goku fighting Jiren in his Ultra Instinct Omen form, followed by a wave attack struggle between them in which Goku loses, and maybe that's how he loses his shirt as well. This loss is probably what awakens his mastered form and makes him go all out against Jiren in the last two minutes of the match.
Episode 129 was delayed due to Tokyo Marathon and is going to air on March 4.