'Dragon Ball Super': Full body image of Goku in his perfect UI form unleashed
Will the perfect UI form of Son Goku enough to beat the overpowered Jiren in the Tournament of Power in 'Dragon Ball Super?'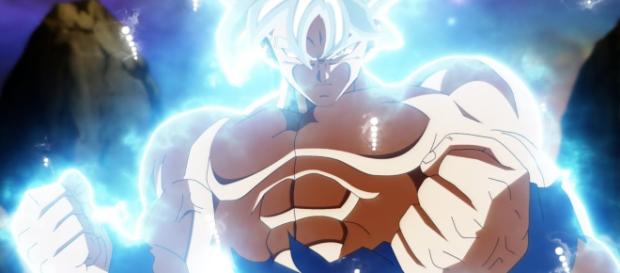 Episode 129 of "Dragon Ball Super" is just a few days away. The hype about the much-awaited episode continues to build up as several details, videos, and images were recently leaked.
Aside from the bonus preview released by Toei Animation, the upcoming episode will feature the highly anticipated rematch between Jiren the Gray of Universe 11 and Son Goku of Universe 7. It was previously revealed that the fan-favorite Saiyan will master the Ultra-Instinct and will unleash his ultimate form. Interestingly, another image is recently leaked that made abuzz in the massive fandom of the anime.
New image
Fans of "Dragon Ball Super" are currently talking about the new image of Son Goku. Unlike the previous leaks, this time, the fan-favorite Saiyan is shown in his mastered Ultra-Instinct form in a full body shot. The Saiyan is seen with his hair and eyes tinted in silver. He is shirtless just like in the promotional image released at the start of the Tournament of Power. His chest is chiseled and he is wearing his orange pants. The latest image was uploaded to the social networking site, Twitter by Yonkou Productions.
The account is notorious in the fandom for uploading spoilers and leaked images revealing several details of the anime's upcoming episodes. The image came from the latest official pocket binder set of the popular game "Dragon Ball Heroes."
While the latest image is just a promotional art, it reveals how the upcoming fight between Jiren the Gray and Son Goku goes. It is worth noting that Goku perfects his godly form, there is a great chance that his power might get near or even surpass that of his opponent.
This is a really great take on the character designs for MUI. pic.twitter.com/ihzlK8B9z3

— YonkouProductions (@YonkouProd) March 1, 2018
Other details
Episode 129 will most likely show fans Son Goku getting into a kind of fight that they have not yet seen. In the bonus preview, the fan-favorite Saiyan claims that Universe 11's Jiren the Gray is the strongest opponent he will ever face. In fact, Son Goku acknowledges that Jiren is much stronger than Vegeta, Cell, and even Majin Buu.
Will this ultimate form help Universe 7 in winning the Tournament of Power? Or will the overpowered Pride Trooper will defeat him and be the last fighter standing in the Wolrd of the Void? It is too early to give any conclusion at this moment.
However, it is safe to assume that the upcoming episode is going to be epic with the much-awaited fight looming on the horizon.
Meanwhile, Episode 129 of "Dragon Ball Super" is titled "Limits Super Surpassed, Ultra-Instinct mastered. It is scheduled to air on March 4.