'Dragon Ball Super' Episode 131 (Preview): Frieza vs. Jiren
We show you the new preview of the next episode of the successful anime series.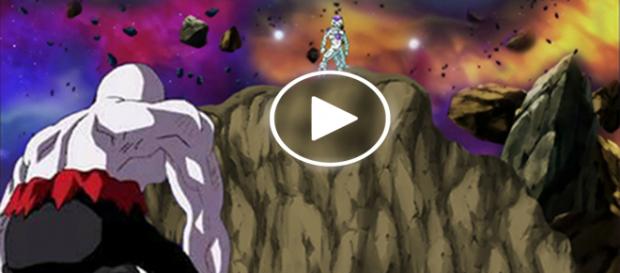 After several days, a new preview of Episode 131 of "Dragon Ball Super" has been revealed. For many people it is, a preview that will disappoint them and it will ruin their plans for the weekend -- a lot of people were going to do mass gatherings to see the final big fight between Jiren and Goku with his perfected Ultra Instinct. Unfortunately, the outcome of this fight will be chaotic for many, surprising for others, and nice for just a few.
The ending of the Tournament of Power is very near, and the fate of Universes 7 and 11 is at stake. Jiren, from Universe 11, and Goku, from Universe 7, are engaged in unprecedented combat, but a third warrior will be involved in the final fight.
The complete preview
The fight that decides the fate of two universes reaches its climax. Fighting against Jiren, as the most powerful man, Goku's power fades away and he falls from the arena. At the moment when the victory of Universe 11 seems imminent, a man that disappeared makes his entrance. Although his entire body is covered with serious injuries, Frieza can recover. He'll be able to defeat Jiren, a character that not even Goku was able to defeat. Who will be the winner of the Tournament of Power?
Goku loses the battle
As you can see, it's confirmed that Goku loses the final battle against Jiren.
Sadly, the most powerful Saiyan from Universe 7 will not be able to protect his loved ones, and due to the accumulated fatigue, he will run out of power and fall off the platform. It's really amazing about Goku since he has no luck when it comes to martial arts tournaments. He's a remarkable warrior but he just doesn't have enough luck to win in the martial arts tournaments that he loves so much.
On the other hand, a physically and mentally wounded Frieza deigns to appear in order to defeat Jiren, who's severely injured and exhausted because of the fight against Son Goku. Frieza will try his best to be the winner of the tournament and obtain the Super Dragon Balls.
Frieza's fate
The champion!

---

El campeón! pic.twitter.com/MO5lDGSnSf

— Dragon Ball Super (@DBSuperOK) 15 de marzo de 2018
Frieza's fate is clearly uncertain so the possibilities after the tournament, if he wins, which is very likely, are endless, since the consequence of Frieza's victory is a wish granted using the Super Dragon Balls. So, we'll see what will happen.
So far this has been the latest news about the "Dragon Ball" world. If there are more, we will be communicating it as soon as possible.
Here is an advance of Episode 130 that will be released on March 17.