'Dragon Ball Super': Official name of Vegeta's new transformation revealed
A new name of Vegeta's latest form in 'Dragon Ball Super' was recently revealed in 'Dragon Ball Heroes.'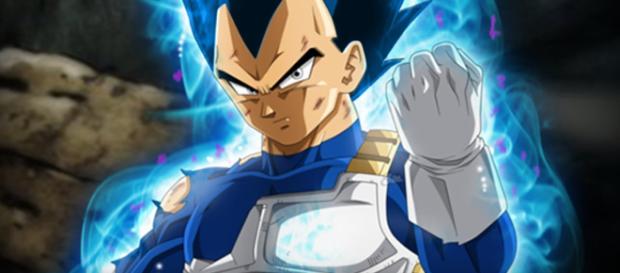 The Tournament of Power in "Dragon Ball Super" is going to end in March with Episode 131 as its finale. There are only a couple of minutes remaining until the winning universe is declared and the losing one will be annihilated. The team behind the popular anime series has been hyping the upcoming episode for several days and fans could not help but speculate about the outcome of the upcoming battle. Son Goku of Universe 7 will be fighting Universe 11's Jiren the Gray for the second time. However, while the epic battle has not yet happened, new information about Vegeta's transformation surfaced on the internet. It appears that the name of the Prince of Saiyan's most recent transformation is finally revealed.
Heroes as spoiler
The Prince of All Saiyans has put up a good fight before getting kicked out of the Tournament of Power in "Dragon Ball Super." Many fans gave Vegeta the respect he rightly deserves for fighting until the end in order to keep his Saiyan Pride, to protect his family, and to make Universe 7 the winner. Before his elimination, Vegeta was able to eliminate Toppo, who appeared invincible at that time with his Hakai power. It was the Prince's latest transformation that helped him achieve this unbelievable feat.
However, Toei Animation has been so silent on the details about the Prince of Saiyan's powerful form. The team did not even reveal the official name of his transformation. Many fans quote Piccolo when he said that Vegeta's form is called Super Saiyan Blue and Beyond. However, this is unofficial and unconfirmed by Toei Animation. Recently, however, a new name for Vegeta's latest transformation was released on the internet. The information comes from the arcade game "Dragon Ball Heroes." As revealed, Vegeta's new form in the game is called Super Saiyan God Super Saiyan Evolution.
Vegeta "Super Saiyan God Super Saiyan Evolution"

No idea if that'll be the proper form name on the back of the card or not though. pic.twitter.com/rtzm2oAgw0

— Tony Redgrave TDC (@DBReduxTDC) February 25, 2018
Other details
"Dragon Ball Heroes" is popular among fans and theorists since most of the things that are later discovered consistent with the anime series were first teased in the arcade game.
One instance is when it teased that the last three fighters in the Tournament of Power would be Jiren the Gray, Frieza, and Son Goku. It appears that in the final hour of the tournament, these three characters are the last survivors. While this is not yet official, "Dragon Ball Heroes" was also the first one to reveal the name of Son Goku's latest transformation, which fans know of as Ultra-Instinct Omen.
Meanwhile, Episode 129 of "Dragon Ball Super" is scheduled to officially air on March 4. It is titled "Limits Super Surpassed, Ultra-Instinct Mastered." It will feature the epic re-match between Son Goku and Jiren the Gray.