'Dragon Ball Super': New image from episode 129 -- why is Whis smiling?
It looks like 'Dragon Ball Super' is compensating for the delay with previews and leaks.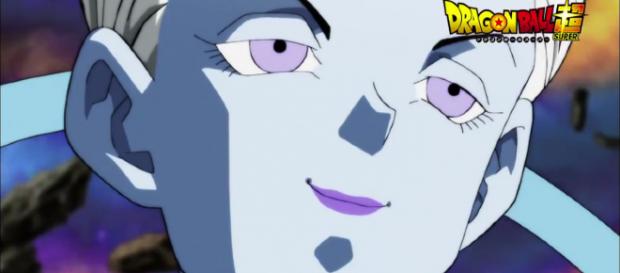 We managed to survive last Sunday without a "Dragon Ball Super" episode with the bonus Preview of episode 129 that was released on February 25. There are only three days left until the next episode, which is dubbed as the most-anticipated episode, and it airs this weekend. Recently, the team of "Dragon Ball Super" shared a new preview image from the upcoming episode of the show.
The new leak
Although the image is not of high quality, we can see that Goku is preparing some kind of Ki Wave attack but it doesn't look like the typical Kamehameha wave because Goku's hands are positioned more to the middle rather than to his left side.
The gray aura on Goku's back is also unusual, as though he has not yet attained his new form. The picture has been circulating on Twitter and comes from a Fuji TV listing.
DBS 129 preview image. pic.twitter.com/rXymnsO4Ld

— Erren Van Duine (@ErrenVanDuine) February 23, 2018
From the image, it seems that Goku is still trying his best to beat Jiren in his non-mastered ultra instinct form.
Episode 129 extended preview
Toei Animation released a new preview of the upcoming battle between Goku and Jiren.
The preview starts with Goku and Jiren standing in front of each other. Goku has attained his Ultra Instinct form but has not mastered it yet. As the Tournament of Power reaches its final showdown, Jiren also doesn't hold back and shows his true power.
One of the most interesting things is that Goku says that Jiren is truly powerful when compared to Vegeta, Frieza, Cell, and Buu. Jiren is still able to stop Goku in his Ultra instinct form with his "Glare" attack. But whatever the reason, Goku will not give up on his friends and family.
It is hard for fans not to notice that smile on Whis' face. Throughout the anime, Whis is a neutral character when he is serious and only gets excited when he sees delicious food. He smiles whenever he sees a good fight if it involves anyone from Universe 7. In the extended preview of episode 129, the animators have somewhat emphasized his sinister smile. This smile is supposed to happen during Goku's transformation from Ultra Instinct Omen to Mastered Ultra Instinct.
Belmod doesn't look happy about Goku's true Ultra Instinct transformation which is most likely to be triggered by the Wave struggle between Goku's Kamehameha in his Ultra Instinct form and Jiren's Ki wave attack.
Goku loses this struggle and proceeds to transform into the white-haired Ultra Instinct form.
"Dragon Ball Super" was delayed due to the Tokyo Marathon and will return on March 4.