'Dragon Ball Super' Spoilers: Hits and misses of Episode 122
Goku and Jiren approach each other as the final battle of the Tournament of Power started.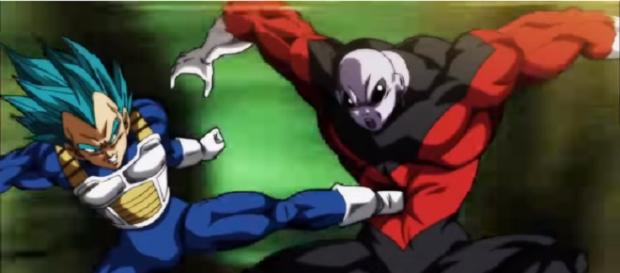 "Dragon Ball Super" presented Episode 122 this weekend after a gap of 15 days. The chapter was titled "For One's Own Pride! Vegeta's Challenge to Be The Strongest!!." The episode started with the preview of Chapter 121, where Universe 7 eliminated the warrior named Aniraza, who is the fusion of four robotic warriors of Universe 3. Episode 122 marks the beginning of the final stage of the Tournament of Power. So far, almost 70 warriors have been erased from the tournament while eight universes have been eliminated. It means only two teams, U11 and U7, were left to battle in the tournament.
Episode 122 explained
Chapter 122 started with a stare down of U7 and U11's warriors, Jiren, Toppo, Dyspo, Goku, Gohan, Vegeta, Frieza, and Android 17. Krilling then reminded them that there are only nine minutes left in the tournament. According to ComicBook, Krilling places the remaining spectators on one shared bleacher. Some teams support it while some have shown their disagreement. Notably, Universe 11's Marcaritta promises to give his support to Universe 7 as the U6 is already out of the tournament.
Goku and Jiren then race toward each other as the final battle of the Tournament of Power started. Goku soon went for Super Saiyan Blue as both started to exchange blows. Meanwhile, Vegeta didn't like this strategy from Goku. Later, Goku and Jiren had a bit of a conversation and Vegeta also joined Son against U11's fighter.
On the other hand, Dyspo and Frieza engaged in the battle. Universe 11's fighter told Frieza he will never hit him. Toppo had fought Gohan and Android 17.
Jiren dominated Vegeta and Goku
Vegeta was seen observing Jiren closely when he was fighting to Goku.
The three were continuously exchanging blows. Later in the fight, Jiren used Ki blast on Vegeta as he pushed him out of the ring. According to ComicBook, Vegeta impressively keeps Jiren at bay, and Whis realizes that Vegeta may be attempting to reach Ultra Instinct by fighting Jiren. On the other side, Frieza grabs the Dyspo's tail. Toppo was seen having trouble with Android 17 and Gohan. At the ending part of Episode 122, Jiren was knocked unconscious.
"Dragon Ball Super" will air Episode 123 on January 13.
It is titled as "Full body, power and spirit unleashed! Goku and Vegeta!!." The mentioned battles will carry on to Chapter 123. Spoilers suggest the elimination of Android 17 in the said episode. Nothing else is confirmed yet. Stay tuned for more entertainment news and updates.