'Dragon Ball Super': Jiren's shocking elimination [Spoilers]
Fans have seen Vegeta put up a good fight against Pride Trooper in episode 123.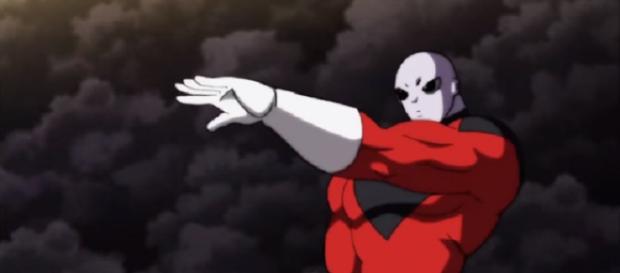 "Dragon Ball Super" is leaving no stone unturned when it comes to twists and turns. Fans have already witnessed some unexpected twists in the plot of the anime TV series. The recent rumors and theories are making shocking revelations regarding the most powerful fighter in the Tournament Of Power, Jiren.
The tournament has entered its final stage as only Universe 7 and Universe 11 are left to battle for glory. The recently aired episode 122 ("For One's Own Pride! Vegeta's Challenge to Be The Strongest!!") featured the beginning of the battle between Goku/Vegeta vs Jiren, Android 17/Gohan vs Toppo and Dyspo vs Frieza.
Jiren's defeat in tournament
As expected, the episode was mostly focused on Goku/Vegeta vs Jiren. Fans have seen Vegeta putting a Good Fight against Pride Trooper, who acknowledges the power of Vegeta's attack while Goku struggled a lot. At the end of chapter 122, Vegeta was almost pushed out of the arena by Jiren.
Looking at Jiren's power and the previous episode, one can easily say that Jiren could be the winner of the tournament. But there might be a twist and Vegeta is expected to be more powerful than the gods in episode 126, reports GameChup.
Fans will see Vegeta unleashing all his energy in order to beat Jiren in episode 126. It is titled, "Power that is even greater than the Gods. Vegeta's life-risking blow." Judging by the title, viewers of the show can contemplate what to expect from this part of the show. According to Okatukart, Vegeta will try some life-risking technique.
The new power might give Vegeta the strength to beat Jiren alongside with Goku, who will also be in action in episode 126. Son Goku is also rumored to unlock a new level of Ultra Instinct and it simply means trouble for Jiren, who is dubbed as unbeatable. Rumors and theories suggest the defeat of Jiren in the same episode.
Episode 123 of "Dragon Ball Super"
"Dragon Ball Super" will air episode 123 on January 13. It is one of the most anticipated episodes for many reasons. The biggest one is Vegeta getting into new form, Super Saiyan Blue form as the preview of episode 123 suggests, with Goku saying, "Just then, Vegeta awakens to an amazing power beyond Super Saiyan Blue."
Fans might also see Android 17's defeat against Toppo. The episode will play a huge role in deciding the fate of Tournament Of Power. Chapter 123 is named as "Body and Soul, Full Power Release! Goku and Vegeta!!" Stay tuned for more updates.
Click to read more
You will watch a video to read the news
or