'Dragon Ball Super': Goku, Vegeta's shocking tactics to beat Jiren & Universe 11
U11 has the most powerful warrior, Jiren, and the other members like Toppo.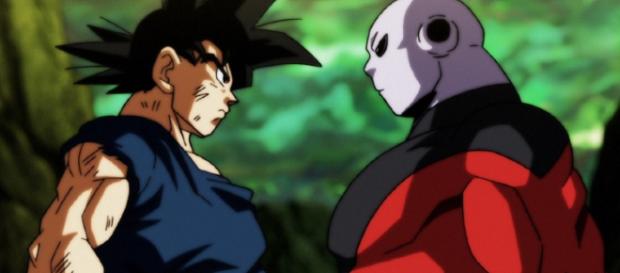 "Dragon Ball Super" has, at last, reached the final stages of the Tournament of Power. A number of fights are set up for the upcoming episodes as universe 7 and Universe 11 will go all out against each other. The spoilers and rumors regarding the upcoming episode are making headlines on social media. Here, I explain a theory of how Universe 7 can win the Tournament and defeat Jiren and company. The theory suggests that Goku and Vegeta will do a fusion to beat Jiren.
In terms of power and strength, Universe 7 has more warriors than U11 but still, they are weaker than their opponent.
U11 has the most powerful warrior, Jiren and the other members like Toppo. The latest spoilers indicate that U7 will suffer from multiple losses including the defeat of Android 17 and Gohan. According to ComicBook, recently, some fans have on Reddit suggested two ways that allow Universe 7 to win or at least not lose against Universe 11.
Here's the fans theory
Fans have broken down the whole story in the following order:
In upcoming battles, Android 17 is expected to be eliminated by Toppo. Goha and Frieza are expected to challenge Dyspo and Vegeta and Goku will fight Jiren.
Frieza or Gohan will defeat Dyspo and they both later get eliminated by Toppo. It means at the end of the battle, Jiren and Toppo will face three warriors of Universe 7. It is worth mentioning that Toppo might be crowned as the new God of Destruction in upcoming episodes.
Win or draw situation
Then, Gohan is likely to fight Toppo, Goku and Vegeta will rival Jiren. So, ultimately, the final battle of the Tournament of Power will feature a fully-powered Jiren battling Goku and Vegeta with Ultra Instinct.
That would make the final fight a UI tag-team (or fusion) between Goku and Vegeta to take down Jiren, and secure the win for Universe 7, reports ComicBook. The situation might also lead to a draw. Readers are advised that the information is based on fan theory as nothing can be said for certain. For confirmation, we have to wait for the official episodes. "Dragon Ball Super" will air episode 122 on January 7. It is titled as"For One's Own Pride! Vegeta's Challenge to Be The Strongest!!"
Episode 123 of "Dragon Ball Super" is scheduled to release on January 13 and is named "Full body, power and spirit unleashed! Goku and Vegeta!!" The much-anticipated episode will feature some of the best fights of the Tournament of Power.
Fans can surely expect some intense fights in upcoming episodes. Stay tuned for more "Dragon Ball Super" updates.