'Dragon Ball Super': Can Vegeta defeat Jiren in Tournament of Power?
Goku and Vegeta will again start targeting Jiren in episode 123 of the anime show.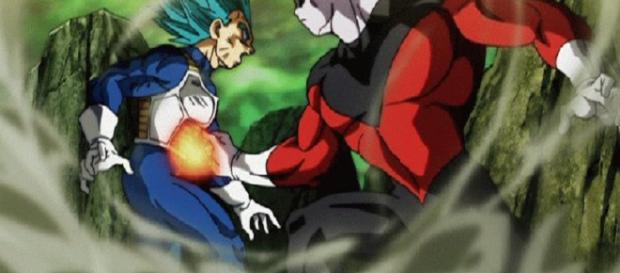 "Dragon Ball Super" Episode 122 ("For One's Own Pride! Vegeta's Challenge to Be The Strongest!!") was heavily focused on Jiren and Vegeta. The preview of the same episode already hinted the duo battling against each other. Arguably, it was one of Vegeta's best episodes of the Tournament of Power yet, because of the way he managed to fight against the most powerful fighter in the tournament. Even though at the end of chapter 122, Jiren come out stronger, notably, there was one area where the Saiyan impressed the fans most.
Vegeta, an intelligent warrior
Fans have witnessed when Goku was fighting Jiren, Vegeta was busy watching Jiren's moves, which proved vital for the warrior later in the battle. Vegeta punched Jiren few times in the battle, which is not at all an easy task. Vegeta powered up a Final Flash and goaded Jiren into taking it head-on. However, the attack failed to damage Jiren, who acknowledged the power of Vegeta's attack before incapacitating him. It was the time when Jiren was suffering a bit. At the end of the episode, Vegeta was almost knocked down by Jiren, right out of the arena.
Now, the question comes, will Vegeta be able to defeat the strongest warrior in the Tournament Of Power? By looking at the history of the Saiyan Prince no one can deny that he can pull out the impossible. One of the main factors that can help Vegeta is his cleverness, which we mentioned earlier - like the way he was observing every move of Jiren. According to ComicBook, Vegeta's pride and history as a fighter means that he could eventually defeat Jiren as long as he gets the time to study his moves.
On the other hand, the synopsis suggests that Vegeta might unlock a new level of Ultra Instinct. We have also seen a glimpse of it in episode 122. If Vegeta forms another level of his lethal power, Universe 11 will surely find themselves in trouble including Jiren.
DBS episode 123, what to expect
"Dragon Ball Super" Episode 123 will play a major role in the tournament as many fates are expected to be decided. Goku and Vegeta will again start targeting Jiren. Vegeta will have trouble in the chapter.
According to GameChup, Saiyan puts forth his full power to battle Jiren but utterly fails to defeat him. Notably, there is no sign that the Universe 7 warrior will be eliminated even after the tough battle. The episode is set to air on January 13 and is titled as "Full body, power and spirit unleashed! Goku and Vegeta!!" Nothing else is known, stay tuned.