'Dragon Ball Super': Synopsis of episode 122
The final battle against Universe 11 finally begins. Vegeta vs. Jiren!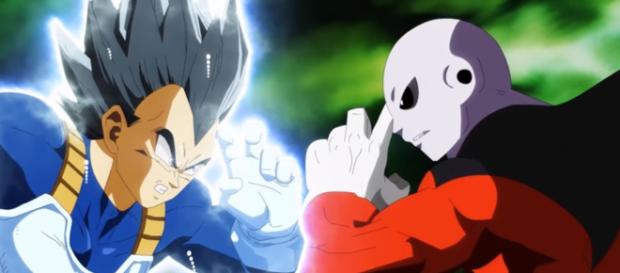 After a week without any information regarding the next episodes of "Dragon Ball Super," finally the Weekly Shonen Jump magazine has revealed a Synopsis for episode 122, which will be televised on January 7, 2018. Don't forget that there is no episode scheduled for December 31 due to New Year's Eve.
There are only 10 minutes left until the Tournament of Power's end and so far Universe 7 has managed to beat every single opponent that crossed their path, but those of Universe 11. Now the final battle is about to begin.
Will Goku be able to beat Jiren?
Synopsis of episode 122 of 'Dragon Ball Super'
Title: "Testing his pride. Vegeta faces the strongest warrior"
Release date: January 7
Synopsis: Vegeta attacks Jiren, the strongest warrior in the arena!. Only the warriors from Universe 7 and Universe 11 remain in the battleground of the Tournament of Power. This time, the Prince of the Saiyans is the one challenging Jiren!.
In the meantime, Frieza targets Dyspo as his next victim. As the warrior from Universe 11 tries to stand in the path of Universe 11's warriors, Frieza makes him his next target.
Finally, it would seem that, as the title suggests, Vegeta will challenge Jiren. We were kind of aware of this situation since Animedia and Animage leaked such information in early December, although no further details were given. There may be many theories about this battle but the main question is if the Prince of the Saiyans is truly capable of facing the strongest warrior Universe 11 has.
Yet the news comes at Frieza's hand since it seems that he will be facing Dyspo. It's been a while since we last saw these two warriors in action, so we believe it is their moment to shine.
This is a battle that, without any doubt, will be very interesting to see since we have yet to see a warrior that really pushes Frieza to his limits.
But we've got more news for you regarding this episode. It would seem that we will be able to see a new ending, which will be played byOnePixcel. The theme is named "Tears."
Episode 121, the last of 2017
We also want you to remember that this weekend episode 121 will be televised. It will be the last of this year, and its plot will center on the fierce battle between Universes 7 and 3.
Let's remember that all the remaining warriors of Universe 3 have merged into Aniraza, one giant and brutal warrior. To defeat him, Universe 7 will have to gather all its warriors and face him at the same time.
Although we already know how this battle will end, it will surely be a thrilling match!