'Dragon Ball Super': Spoilers for chapters 123, 124, 125, Vegeta in trouble.
I reveal the spoilers of the next episodes of the successful Japanese series, 'Dragon Ball Super!'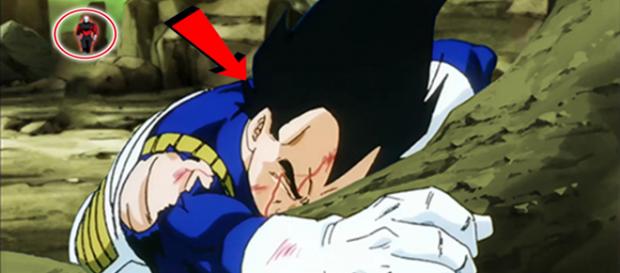 New spoilers have just been revealed a few hours ago, and we have been given new glimpses into the next episodes of "Dragon Ball Super." In the upcoming episodes, Vegeta and Goku will fight Jiren of Universe 11, a fight between Frieza and Dyspo, and Toppo confronting Gohan and the Android 17. Next, I will reveal the synopsis of the upcoming episodes.
Episode 123
The Tournament of Power is about to come to an end and there are only two universes left, Universe 11 and Universe 7, led by Son Goku. There are only seven minutes left until the end of the tournament! Although Vegeta uses all of his power to fight Jiren, the strongest warrior from Universe 11 is not ready to lose.
Consequently, Vegeta is badly hurt and is in great danger!
Maldita sea...

Posdata: En instantes la traducción pic.twitter.com/rMnjn31Y64

— Dragon Ball Super (@DBSuperOK) 28 de diciembre de 2017
Episode 124
Although Goku and Vegeta come together to attack Jiren, they only manage to hit him with one blow. Instead, it seems that Jiren's level of power has increased even more. Meanwhile, Gohan joins Frieza to help him in his fight with Dyspo.
Episode 125
Toppo, the God Of Destruction appears! We can see the warrior reaching his greatest potential.
The title of this episode mentions that we shall see a demonstration of pure power!
As you can see, the spoilers of the next episodes reveal, confirm, and answer many of the questions that fans have. One of those questions was if Vegeta would get the Ultra Instinct, which is very clear that it will not happen. On the other hand, Frieza will not be able to solely deal with Dyspo, which is the reason why Gohan will need go to the aid of the ex-emperor of Universe 7.
Something interesting in the summary of Episode 124 is that it mentions that Goku and Vegeta will come together to attack Jiren.
This sentence will surely bring many theories, which will affirm a possible merger between Goku and Vegeta. The advancement only refers to the fact that they unite as teammates, and not in a fusion. Even so, Jiren continues to be much more powerful than both of the Saiyan warriors. Unfortunately, Vegeta will once again be defeated by the main protagonist. Consequently, the "great" moment that we all expect from Vegeta will be postponed, yet again.
Finally, it is mentioned that Toppo will show all his power, and is branded as a "God of Destruction." I do not yet know what this title means, but I believe it refers to his current position as heir to the throne of the current God of the Destruction of Universe 11, Vermouth.
At the moment, this is the most current and accessible information known to the "Dragon Ball" world. If there is more, I will be letting you know as quickly as possible.