'Dragon Ball Super' leaked spoilers hint Jiren teams up with U7 against Aniraza
A new and unexpected alliance in the Tournament of Power of 'Dragon Ball Super' will form to defeat a common enemy.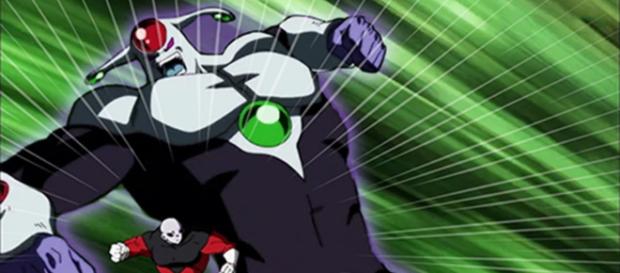 A new set of spoilers for Episode 122 of "Dragon Ball Super" was recently leaked. The latest set of details backs up the previous speculations about the trump card fighter from Universe 3. Dubbed as Aniraza, many fans believe that he will be so powerful that he can match Jiren the Gray's power level. While the debate about the power levels of these two fighters is still ongoing in the fandom, another interesting perspective about Episode 121 was shared by one of the fans of the popular anime series. This theory states that Universe 11 fighters will help Universe 7 in eliminating Aniraza in the Tournament of Power.
Unexpected alliance
After Episode 120, only 10 minutes are remaining until the Tournament of Power in "Dragon Ball Super" come to an end. With the imminent finale of the hotly contested competition fast approaching, fans are expecting that explosive battles are in store for them. One fan named Jeremy Carden believes that Episode 121 will have more surprises than what many fans have hoped. According to him, it is possible that Universe 11 fighters specifically Jiren the Gray might help Universe 7 fighters namely Son Goku, Vegeta, and Gohan fight Universe 3's Aniraza.
The fan based his claims on the preview released for the upcoming episode. On the preview, Son Goku can be heard in the background saying that Aniraza has powerful and destructive attacks that might cause the arena to fall apart. If the arena gets destroyed, all the participating fighters in it will be eliminated. Carden believes that instead of just spectating and waiting to be dismissed by Universe 3's fighter rampage, Jiren and/or all three remaining fighters from Vermouth's team will help Universe 7.
Other details
Aside from this, Carden also believes that aside from their survival, Jiren the Gray might want to help Son Goku so he can fight him all by himself. Fans have seen this happen in the popular anime series almost all the time. It is also possible that the strongest Pride Trooper would not want to be eliminated because he still has to make a wish to the super dragon balls.
Meanwhile, Episode 121 of "Dragon Ball Super" is scheduled to air on December 24. It will feature the continuation of the battle between Son Goku, Vegeta, and Gohan against Paparoni of Universe 3.
The fight will be epic as Paparoni is expected to bring out all he has to protect his universe from getting erased by the Zenos.
Click to read more
You will watch a video to read the news
or