Dragon Ball Super: Jiren shockingly eliminates Vegeta in the Tournament Of Power
Chapter 122 will feature the beginning of the final stage of the Tournament of Power.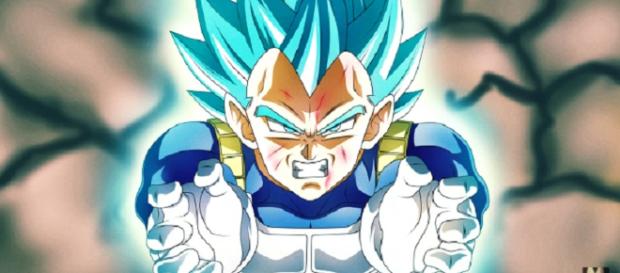 Earlier today, the exclusive pictures of the upcoming episode (122) have surfaced online. These images suggest Universe 7 and Universe 10 will be fighting each other in the Tournament of Power. The upcoming episode will be heavily based on Vegeta and Jiren, as both will battle each other. According to reports, Vegeta will be eliminated in Chapter 122 or 123.
Hoy no hay capítulo, pero si tenemos imágenes! pic.twitter.com/zb4f8LTVAr

— Dragon Ball Super (@DBSuperOK) December 30, 2017
The pictures explained
Here are the pictures from Episode 122 of "Dragon Ball Super." One can see Jiren and Vegeta are going up against each other.
The battle is dubbed as the destiny decider as both the warrior's fate are at stake. In the first picture, Goku is looking very serious and preparing for a move; the warrior is also rumored to use his Super Saiyan Blue against Universe 11's fighter.
In the next picture, fans can see Gohan is all set to use the fully-powered Kamehameha. He will be seen fighting Toppo in Episode 122 alongside with Android 17. Fans will witness 17 paralyzing Toppo in the same episode.
Vegeta's elimination?
The most revealing picture is the third one, where Vegeta can be seen severely hurt.
The image shows the Saiyan Prince standing with the damaged vest. Fans can also see wounds on different parts of his body. Presumably, the picture might be before the Saiyan's final attack. The last image reveals Jiren, who is giving a tough look. It is not yet confirmed which part of the episode these images belong to, but some clues point to it being from the beginning.
For a long time, the rumors and spoilers have been pointing towards the defeat of Vegeta at the hands of Jiren. The preview of this next episode also shows the Saiyan Prince kicking Jiren, but that might not be enough to beat the most powerful warrior of the Tournament Of Power.
After Vegeta gets seriously hurt, fans will get to see Goku take his place and finish the battle with Jiren.
There will also be other fights that will take place, including Dyspo vs. Frieza, and Toppo vs. Gohan/Android 17. Some of those battles are expected to stretch into Episode 125.
It's worth noting that there will be no episode of "Dragon Ball Super" airing on December 31. Episode 122 will air January 9, making it the very first episode of 2018. The episode will be titled "Staking His Pride! Vegeta Challenges the Strongest," and will feature the beginning of the final stage of the Tournament of Power.
Meanwhile, Episode 123 is set to air January 13. The titles of the synopsis of Episode 124 and 125 are already available online. Stay tuned for more "Dragon Ball Super" news and updates.