'Dragon Ball Super' Episode 123: Jiren's defeat against Goku and Vegeta revealed
Episode 122 of the show will start the final stage of the Tournament Of Power.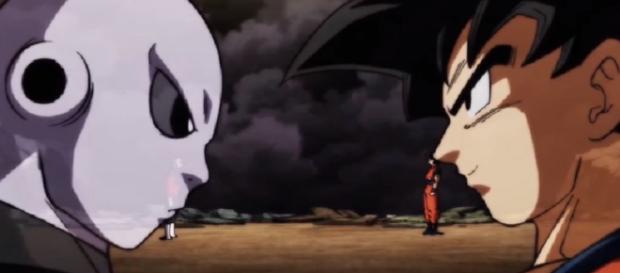 "Dragon Ball Super" is getting more interesting with each passing minute. The anime show will air episode 122 on January 7, 2018's first episode of the show. Still, a lot of time is left in the release of the episode, but fans theories and speculations are hovering on social media. Episode 122 is titled as "Staking His Pride! Vegeta Challenges the Strongest!!." Fans can relate a lot regarding the upcoming episode by the title of the show only. The upcoming episode will feature the battle between Universe 7 and Universe 11.
Tournament OF Power's last battle
So far in the Tournament Of Power eight Universe have been eliminated, as only Universe 7 and 11 are left battle in the final stage. Episode 122 will start the final stage of the tournament as some of the fiercest warriors will battle for glory including Son Goku and Jiren. Notably, Universe 7 is the most battled team since the Tournament of Power started.
Goku and Vegeta, a deadly duo against Jiren
In the previous episode, "All-Out War! The Ultimate Quadruple Merge vs Universe 7's Full-Scale Attack!!," Universe 7 has defeated Universe 3's ultimate warrior, Aniraza, who war the fusion of four robotic warriors.
The win has led U7 to battle Universe 11 led by Jiren, the most powerful warrior in the Tournament Of Power. The preview of episode 122 is already out. One can see that Vegeta is kicking Jiren, who isn't paying attention to Vegeta and remained focused on his battle with Son Goku. The rumors suggest that Goku will go down in the fight and only Vegeta will face Jiren alone.
Vegeta as seen in the trailer for episode 122, will rival Jiren, the strongest warrior in the Tournament Of Power. If rumors are to be believed, Goku will support Vegeta during the battle with Jiren. According to Geeks, Vegeta may get used to his new level of power and unleash it on Jiren, or it can be Goku because he may master Ultra Instinct and either join the battle or replace Vegeta during the fight with Jiren.
This will create trouble for Jiren as Vegeta will unleash his Ultra Instinct offensively while Goku will go into defense mode with the mentioned power. The battle is expected to end in episode 123 scheduled to air on January 13. According to Otakukart, Goku will eventually have the last stand against Jiren in episode 123. Spoilers suggest that Jiren will lose the battle. But nothing can be said surely until the episode gets released. Stay tuned.