'Dragon Ball Super' Chapter 119 Synopsis: Universe 6 is eliminated.
Today we reveal the latest news about the successful anime series created by Akira Toriyama.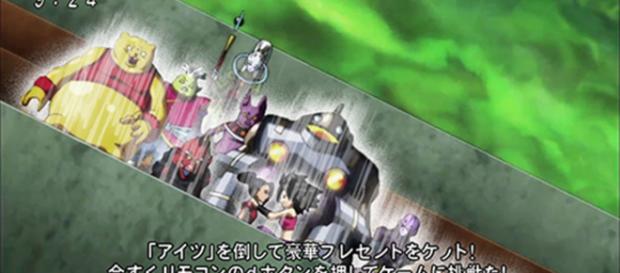 Some surprising news was revealed a few hours ago with a new Synopsis of Episode 119 that confirms the fate of universe 6. According to this summary, Universe 6 and company will be eliminated in the next episode of "Dragon Ball Super."
This summary was revealed thanks to the magazine Weekly Shonen Jump, and now I will reveal the new synopsis of Episode 119, in which Universe 4 of Quitela will enter into action with their invisible warriors.
Episode 119
With Universe 6 eliminated, the Tournament of Power enters its final stage and Universe 4 begins a surprise attack against Universe 7, who was responsible for a new elimination.
Goku and the others must face invisible enemies that can not be detected.
As you have seen, the elimination of the sixth universe of Champa, Hit, Cabba, and others is confirmed. As everyone knows, Vados will continue to witness the tournament, since angels are the only creatures that survive the erasure of their universe.
The Attack of Universe 4
After remaining shrouded in mystery in the tournament, the invisible warriors of Universe 4 will enter into action. Until now, these characters have been an unknown throughout this saga since they have remained anonymous despite all the incredible events that have taken place throughout the tournament.
Everything indicates that Universe 7 is the team to beat since they have the most remaining fighters, in addition to noticing the incredible evolution of Goku throughout the Tournament. On the other hand, Universe 11, who has the strongest warrior in the tournament, is not being targeted by anyone, knowing they have no chance of defeating the mighty Jiren. As a result, they focus only on defeating Universe 7 to reduce the number of warriors remaining and giving them the best chance to survive.
Episode 118 will be released on December 2, and will undoubtedly be one of the saddest episodes of this saga.
This episode will show us Champa, brother of Beerus, erased from existence by Zeno. In turn, we believe we could see very emotional scenes between Cabba and Vegeta, Hit and Goku, among other characters who have shared moments in the past between these universes.
Finally, it is not stated that Universe 2 will be erased, so we can not confirm this at this time. Should any information arise about this, I will be communicating it as quickly as possible.
This was the most recent news from the world of "Dragon Ball." If more information is revealed, I will publish it immediately.
For now, watch the video below to see the progress of the upcoming chapter of "Dragon Ball Super," which comes to us through some leaked information about this saga.