'My Hero Academia' Season 2 final episode: Tomura Shigaraki's conviction
Rate this title
The final episode of the second season of "My Hero Academia" anime reveals a villain's revived conviction.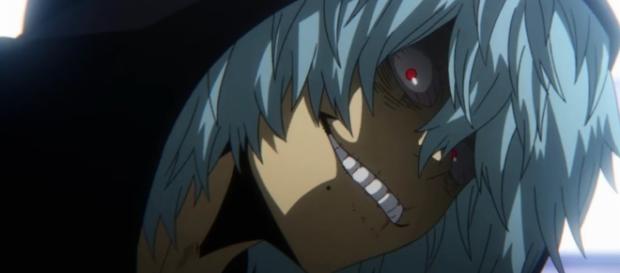 The final episode of the second season of "My Hero Academia" has finally aired and the season left off with a bang. Otherwise referred to as "Boku No Hero Academia," the animated adaptation series capped off with the aspiring heroes' short trip to the mall as well as a huge development in the villains' plans.
The exams, especially the practical exams of the students from U.A High School recently ended, and after announcing the results, every one of the aspiring heroes in Class A was allowed to go to training camp because they all passed the written exams even though some of them failed their practical tests.
Tomura's conviction
"My Hero Academia" episode 38, which is also referred to as the 25th and final episode of the second season, was titled "Encounter" because it was centered on Tomura Shigaraki's appearance and his unexpected encounter with the story's main hero, Izuku Midoriya.
Shortly after the said exams, Izuku and his classmates decided to head to the mall to purchase everything they needed for their impending training camp.
However, while at the mall, Tomura stealthily approached Izuku, catching him off-guard and insisted that he was only there to talk. Tomura threatened to kill the young Izuku and even shared that he wouldn't mind hurting the innocent people in the mall if Izuku tries to make a move that will alert the heroes or his classmates.
Left with no choice but to listen to Tomura's ramblings while shaking in fear for his life, Izuku stayed still to make sure that no one would be harmed. When one of his classmates, Ochaco Uraraka realized that Izuku was being held against his will, she attempted to do something about it but Tomura handled the situation before it got of hand and Izuku had to lie to prevent any casualty.
During Tomura and Izuku's little talk, the former realized that Izuku and the hero killer named Stain, who he despised for stealing his thunder, shared one thing in common. All Might was the root of Izuku and Stain's convictions even though the two characters are aiming for different things.
After connecting the dots, Tomura finally gains his conviction and decided that the one thing he was after all this time was the end of All Might. With this huge development, Tomura has decided to move forward with his plans as the head of the League of Villains.
All For One's plans
All For One, who is known as the central antagonist in "My Hero Academia," is happy with Tomura's development and has decided to act on the young villain's future. Now that the young leader of the League of Villains has finally renewed his conviction, All For One is set to use this path to make Tomura his successor and become the next All For One.
Click to read more
and watch the video
or