'High School DxD' season 4 teaser PV, cast, staff, and release date revealed.
The hit harem anime will return with a new set of staff and topped off with a new and powerful villain.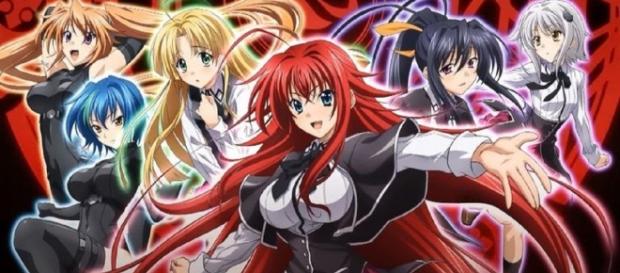 After more than two years of waiting, anime fans were delighted to hear that the hit anime series "High School DxD" will return for another season. Ichiei Ishibumi's harem-action light novel series will come back for its 4th TV adaptation. Additionally, the upcoming show will have a new set of staff and a brand new studio that will handle the animation production. However, the beloved voice cast will all return with some newcomers.
High School DxD Hero
Last Saturday, a panel at Fantasia Bunko Festival 2017 announced the return of the highly anticipated series.
The new season will be called "High School DxD Hero, " and the anime will hit TV screens sometime on 2018. The panel also featured the upcoming show's first promotional video which showed the season's new visual and its spic-and-span staff. The two-minute teaser featured the protagonist Issei fighting a demon named Sairaorg Bael. The latter part of the teaser featured all the major heroines seducing Issei and the last seconds previewed a man with a massive lance who is believed to be the season's main antagonist.
As for the staff working on the project, the new season will have an overhaul of teams and a switch on studios. Tetsuya Yanagisawa handled the first three seasons under TNK, but Yoshifumi Sueda will helm the 4th installment for Passione. Additionally, Kenji Konuta is handling the series composition, and Makoto Uno is the character designer. As for the casts, all of the voice actors and actresses will reprise their roles starting with Yuuki Kaji as Issei Hyōdō. The other casts include Yōko Hikasa as Rias Gremory, Azumi Asakura as Asia Argento, Shizuka Itou as Akeno Himejima, Ayana Taketatsu as Koneko Tōjō, Kenji Nojima as Yūto Kiba, Rikiya Koyama as Azazel, Ryota Ohsaka as Vali Lucifer, and Yūichi Nakamura as Sairaorg Bael.
New and powerful villains
According to Crunchyroll, the new season will be based on the 9th and 10th volumes of the light novel series that will focus an exciting battle with Sairaorg Bael and a new villain named Cao Cao. In the novel, Cao Cao was the leader of the Hero Faction of the terrorist organization Khaos Brigade hence the 'hero' title. He is the wielder of the Ultimate Longinus which is the strongest among the god killing Sacred Gears. The Gremory household will encounter the terrorist while they are on their school trip to Kyoto and there they would end up battling each other for the Dragon Gate.
For now, let's just hope that the quality of the series will not diminish with the sudden change of studio and staff. Tune in for more updates on "High School DxD Hero."