Goku, Jiren to have a 'Batman vs Superman' style showdown
Fans have waited a long time for "Dragon Ball Super" to make good on a Goku vs Jiren episode.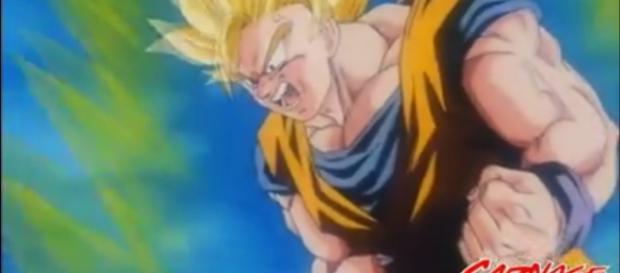 The long-awaited Goku vs. Jiren episode will air on Saturday. The hour-long segment will showcase the two coming face-to-face after a long time. A week ahead of its premiere, the show-runners have started posting teasers. The episode will consist of the first real battle that takes place between Goku and the Pride Trooper. According to a report by Comicbook, writer Ethan Law took to Twitter to post an official still image from the upcoming episode. The two can be seen facing each other with intense looks. This pose was inspired by the official "Batman vs Superman" franchise.
Law posted the picture along with a caption that reads, "The Ultimate Enemy Approaches Goku! Now, let loose! The Killer Spirit Bomb!!"
'Batman vs Superman: Dawn of Justice' fighting sequence
To recollect, "Batman vs Superman: Dawn Of Justice" movie that came out in 2016 had the two super-heroes come face-to-face. There was a time in the movie, where just before the fight between them took place, they looked each other in the eye. While Batman's face was infuriated with anger. , Superman's expressions were calm and deadly.
The same is replicated in the Goku vs Jiren segment as well. Over here, Goku is seen taking Superman's calm and deadly looks, while Jiren represents Batman. The only difference between the two legendary series is that "Dragon Ball Super" won't consist of Martha to come save either of the two. The anime will witness the two fighters' battle it out until one of them bites the dust. Gods of Universe 11 have high hopes on Jiren, as they have ordered him to finish off Goku. Meanwhile, Goku decides to take over his standard Saiyan avatar and give Jiren a taste of his own medicine. It is also rumored that in the upcoming fight, one or the other may even die. Jiren or Goku? That remains to be seen.
More regarding the show
Several teasers and official synopsis of the upcoming episode have already been published online. All of them state that Jiren is too strong for Goku's standard blows. Goku will probably have to opt for an alternate personality to defeat Jiren. He is expected to let go of his Super Saiyan Blue form and instead, take on a stronger person if he wishes to defeat the Pride Trooper. "Dragon Ball Super" series is speculated to conclude in November. It will probably end with the ultimate battle between Goku and Vegeta.
For the fans, it will be interesting to see who will win the fight.
Click to read more
You will watch a video to read the news
or