'Dragon Ball Super' Episodes 111, 112, 113, 114 Spoilers: Caulifla rescues Goku
New spoilers from the forthcoming 'Dragon Ball Super' installments are out.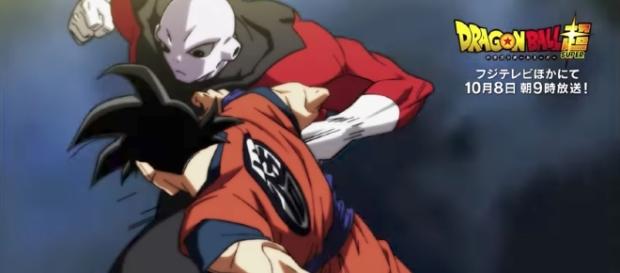 A fresh wave of spoilers has landed, and fans of the series will find out what happens next in the Tournament of Power. New spoilers from "Dragon Ball Super" episodes 111, 112, 113 and 114 have been released showcasing Jiren and Hit's battle, Vegeta's determination and more. Warning: This article contains spoilers from the upcoming episodes of the anime series.
Episode 111 spoilers
The installment is titled "A Battle of Extreme Level! Hit vs. Jiren!!" Universe 11's Jiren is able to deflect the spirit bomb launched by Goku, but Universe 6's Hit confronts him.
Hit allows Jiren to attack him on purpose. He wants to figure out a plan to take down Jiren and counter his attacks. Later, Hit launches the Time-Skip technique but it fails to work against Jiren. Atsuhiro Tomioka is the writer of the episode, and Toshiaka Komura has directed the installment. Yasuhiro Namatame and Chihiro Tanaka are the animation supervisors. The episode is slated to hit the airwaves on Oct. 15 on Fuji TV.
Episode 112 spoilers
Cabba of Universe 6 goes up against Monna of Universe 4 as Cabba wants Caulifla and others to battle against the stronger opponents at their full potential.
But, Cabba is blasted, and Vegeta comes to his rescue at the last moment. Cabba's master tells him that Vegeta is able to battle with no regrets. Episode 112, titled "Vow of Saiyans! Vegeta's Resolve " will air on Oct. 22.
Episode 113 scoop
In this episode titled "Having Fun! Combat Loving Saiyan Battle Once More!!" warriors from Universe 3 go after Son Goku as he is tired after his fight against Jiren, but Caulifla arrives to rescue him. Later, she asks him to fight her. Goku is delighted and accepts the offer, but he is unable to transform into Super Saiyan form due to exhaustion.
However, he assures her that he will regain his strength and fight her. Yoshifumi Fukushima is the writer, and Hideki Hiroshima is the director. Yoshitaka Yashima, Kazuya Karasawa, and Takayuki Tanaka are storyboards in charge. Hirotaka Nii and Masashiro Shimanuki are the animation supervisors. The installment will air on Oct. 29.
⚠️‼️MAJOR SPOILERS‼️⚠️
Dragon Ball Super Episodes 111 - 114 Titles and Summaries. pic.twitter.com/vDwrp37bwY

— YonkouProductions (@YonkouProd) October 5, 2017
Episode 114 scoop
Kale is overwhelmed by Goku's attacks while she battles against Caulifla and her.
However, the tension rises on the battlefield. But, soon, Kale transforms into Super Saiyan Berserk. The writer of episode 114 is Hiroshi Yamaguchi. Masanori Sato is the director and storyboard in charge and Yuya Takahashi. The 114th installment airs on Nov. 5. Fans can watch the new episodes of "Dragon Ball Super" with English subtitles on FUNimation, Crunchyroll, Anime Lab, and Daisuki.