'Dragon Ball Super' confirms Vegeta's plans in the tournament
Episode 112 saw Vegeta's deep conversation with Cabba about the latter's promise to bring him to Planet Sadala.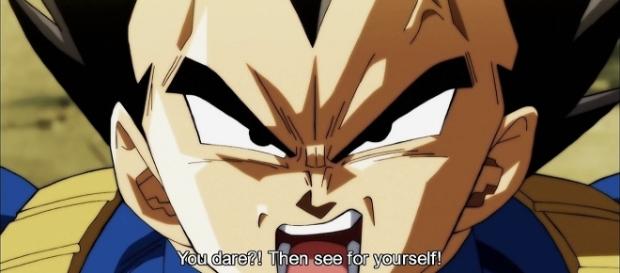 When the Great Priest changed the sky color of the battle arena from blue to green, "Dragon Ball Super" fans were certain that there will be more nerve-wracking events coming soon. Apparently, one of these episodes just happened over the weekend when Cabba and Vegeta had a Deep Conversation. The prince of all Saiyans saved the younger fighter from falling off the cliff when Universe 4's Monna put him in trouble. Everyone was amazed by their master-student relationship except Frieza, who fought off Cabba and eliminated him from the tournament. Vegeta's plan was also revealed during their conversation.
Vegeta's plans
During "Dragon Ball Super" Episode 112, Vegeta quickly saved Cabba without a second thought when the latter was crushed by Monna. The younger Saiyan thanked the prince for saving him although Vegeta made it clear that he didn't mean to save him against the U4 warrior. He said that he just can't stand seeing a weak Saiyan and told the boy to fight to be an MVP. Vegeta also reminded the young warrior about the promise he made that he will bring him to Planet Sadala. Cabba though said that it won't happen since one of their universes will soon be obliterated.
Strong but apparently still not up to the same standard as Cabba, Caulifla, Kale, those U6 Namekians, etc etc...not even Dr. Rota. pic.twitter.com/kHo0ehvPAl

— Odd Blankenship (@Herms98) October 22, 2017
Vegeta promises to win
Vegeta told Cabba that he will revive Universe 6 if he wins the tournament, but that's because of his main reason. "I'm going to win and resurrect you with the Super Dragon Balls," he said. "Then you can keep your promise." Apparently, the younger fighter was thrilled and also told U7 fighter that he will revive Universe 7 if he wins. However, Vegeta did not take it well and appeared to be furious as he is determined to win the tournament.
After all, he is the prince of all Saiyans and can't let anyone win – not even Goku.
Toppo grills Vegeta
Vegeta also wanted to fight Jiren The Grey, the strongest warrior of Universe 11, but Toppo, the leader of the Pride Troopers, interfered. The Saiyan was interested to know what it's like to fight the strongest warrior, but Toppo challenged him instead. However, the Universe 7 fighter refused and said he doesn't want to fight with U11's second-strongest fighter. The U11 warrior told him that he is just the same as him since Goku is more powerful, which made him furious.
He then transformed into SSB and went head-to-head with the Pride Trooper.
Nice use of "fiddle". pic.twitter.com/SUFOYDnj56

— Odd Blankenship (@Herms98) October 22, 2017
"Dragon Ball Super" Episode 113 is titled "Gleefully! Fighting Maniac Saiyans Battle Once More!!." The upcoming episode is set to air on October 29. Stay tuned!
Click to read more
You will watch a video to read the news
or