'Ballroom E Youkoso' episode 16: Tatara and Chinatsu's first real fight
The latest episode of 'Welcome to the Ballroom' reveals that the tension between the new partners heightened as they undergo rigorous training.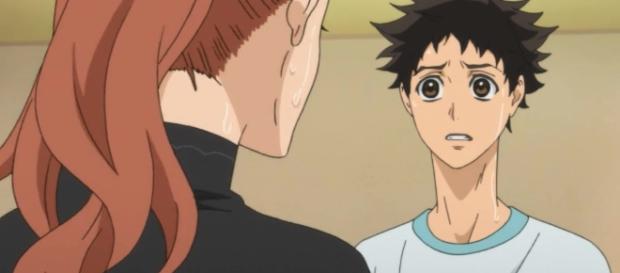 The latest episode of the new anime series, "Ballroom E Youkoso," just aired this weekend. The anime series, which is also referred to as "Welcome to the Ballroom," picks up immediately where the previous episode left with Tatara Fujita and Chinatsu Hiyama joining the Grand Prix.
As revealed in the previous episodes, Tatara has finally found his permanent dance partner and because he and Chinatsu had to work on their couple skills, they had no choice but to transfer to another dance studio. Their former coach, Kanama Sengoku, couldn't train them anymore since he started competing again.
Tatara levels up and chickens out
Tatara and Chinatsu enrolled in Kiyoharu Hyodo's family studio and his mother, who is a well-known figure in the world of competitive dancing, was the couple's new coach. Shortly after joining their new studio, Tatara revealed that he wanted to join the Grand Prix, but Coach Marisa voted against it because they were too green to join in such a high-level competition.
However, the two paid no heed to Coach Marisa's words and went off to compete at the Dance Sport Grand Prix in Shizuoka, which is the second Standard competition site held within the Grand Prix series.
This competition is crucial because it affects the points that dancers needed to acquire for the annual rankings of the Japan Dance Sport Federation (JDSF).
The Grand Prix Standard that Tatara and Chinatsu entered consisted of four dances and for the first qualifying round, they had to do the waltz and tango. However, despite Tatara's determination to join the competition, he suddenly had cold feet after realizing that they were competing against talented and seasoned B-class couples.
Being a D-class level dance couple, Tatara made sure to dynamically lead Chinatsu in their first round.
However, the pressure was just too much for the rookie dancer that he broke down and withdrew from the competition when he suddenly got the feeling of being four-legged, a concept in dancing wherein the leader feels a yo-yo connection because it also feels like his partner's body became an extension of his own body.
Chinatsu blows up
After their embarrassing withdrawal from the Grand Prix Standard, Coach Marisa decided to enter Tataru and Chinatsu in another dance competition, promising them that they'll win this one so they can enter the Grand Prix.
Coach Marisa decided to enter them in a B-class competition because the two actually managed to get perfect scores in both the waltz and tango during the first qualifying round, which is a huge feat for a D-Class couple.
In "Ballroom E Youkoso" episode 16, Tatara and Chinatsu joined the others in a week-long special training program in Karuizawa. Tatara and Chinatsu clearly had the talent to move up in the ranks, but it seems like their synergy as a couple hasn't quite clicked yet.
The two were given variations for their tango number and because they couldn't communicate properly, the two ended up having a huge fight, which resulted to Chinatsu admitting that she's having a hard time because she can't understand Tatara, who is indecisive and incapable of leading her.
Chinatsu ran off in tears and Tatara is left torn apart, confused about what he should do to make amends especially when they're preparing for an important competition.