'Attack on Titan' chapter 98: Reiner reunites with Eren in Marley
The latest chapter of 'Attack on Titan' has revealed a huge development in the ongoing Marley Arc.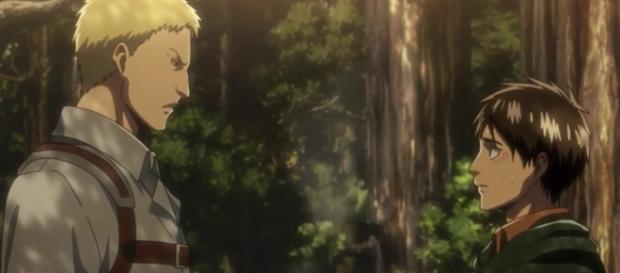 The latest chapter of "Attack On Titan" has been released. Otherwise known as "Shingeki No Kyojin," the new chapter of the manga finally returned to the present timeline and covered the current situation of Marley.
Last month's chapter capped off Reiner Braun's memories of the past, back when he was still with comrades Annie Leonhart and Bertholt Hoover. The three of them were tasked to retrieve the original Titan Shifter, but things went awry for them so they had no choice but to infiltrate the walled city of Paradis Island and become young spies.
Eren infiltrates Marley
The previous chapters of "Attack on Titan" focused on the current situation of a country called Marley. The story takes place a few years after the Paradis Island's Survey Corps have reclaimed peace and order within the Walls and headed out to another expedition to Shiganshina District to try out the new weapons that the new commander, Hange Zoe created.
The Marley Arc focuses on Reiner's life after infiltrating and escaping Paradis Island. Manga creator Hajime Isayama confirmed Reiner to be new main character next to Eren Yeager. A lot of things were explained in the Marley Arc and past were revisited that unveiled the other sides of the story as well.
However, during those times, there were hints that a dark-haired stranger posing as an injured Marleyan soldier was actually a spy from Paradis Island. Avid readers of the manga series had theories that it was Eren and it seems like their hunch was right.
In "Attack on Titan" Chapter 98, Reiner attempted to take his life but reminded himself that he had to stay alive for Falco and his young cousin Gabi. Falco, who was aiming to be the next Armored Titan, unknowingly befriended Eren and has grown fond of him.
A blast from the past
Eren, who hid in the hospital as a traumatized soldier, took advantage of his growing bond with Falco and made the young boy his secret messenger. Unaware of the fact that Falco had been sending information about Marley's current situation to Eren's allies in Paradis Island, the young boy also arranged for Reiner to meet his new friend.
On the day that the Tybur's organized a festival in the ghetto, Falco led Reiner to a secluded underground room where Eren was waiting. Eren wasted no time in saying that it has been almost four years since they've seen each other and that he's happy that Reiner was finally able to go home.
"Attack on Titan" Chapter 98 capped off with Reiner and Eren's unexpected reunion and the next chapter, which is set to release next month, will determine the fate of these two characters.
They may be on different sides, but they share the same goal and that is to attain peace.
Click to read more
and watch the video
or