What is the anime 'Neo Yokio?'
This new anime on Netflix is nothing like any other anime you've seen before.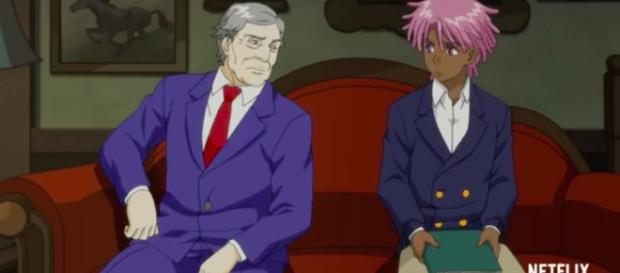 "Neo Yokio" has got to be the most bizarre anime out there. The anime was created by Jaden Smith and Ezra Koenig, so we knew it was going to be weird. What we didn't expect was for it to be unlike any other anime we've ever seen. So what's the best way to go out watching this new show? Luckily, we've prepared a guide to help you understand everything that's going on.
What exactly is 'Neo Yokio' about?
The series takes place in the city of Neo Yokio. Neo Yokio resembles New York, in a post-apocalyptic sort of way.
Roughly half of the city is underwater, and it faces attacks from demons. There are recognizable New York locations though, such as Bergdorf's and the Met. There's also mention of Queens.
Kaz Kaan (Jaden Smith) is most similar to what we would call an aristocrat who works with his aunt, Agatha, to get rid of the demons. When he isn't exterminating demons, he hangs out with his friends Lexy (The Kid Mero) and Gottlieb (Desus Nice), while competing for the spot of Neo Yokio's top eligible bachelor.
The characters care about this bachelor ranking a lot. We aren't sure why, or who exactly does the ranking, but it's very important to the characters, and it drives the plot of the show.
It's unlike any other anime before it
While there are many references to anime such as "Sailor Moon" and "Dragonball Z," this anime is extremely unique. While it follows similar anime animation, the plot is one of a kind. "Neo Yokio" is a little similar to "Ouran High School Host Club." This isn't the anime you want if you're looking for well drawn-out fighting or superb storytelling.
The rest of the cast
It's honestly surprising how many famous people Ezra Koenig got to voice characters in this show. He either pulled a lot of strings to get a lot of these people, or he's made many friends through his journey of fame. Jude Law plays a robot butler. Steve Buscemi is a government inspector who wears wigs and enjoys vaping. There are several other famous people in this anime, including Jaden Smith's sister, Willow Smith.
Is class warfare an underlying theme?
Possibly. The anime doesn't tackle the struggles of class head-on, but the characters are aware of differences in class.
While the characters themselves are in the highest bracket of wealth, it's clear that the city of Neo Yokio is full of income inequality. However, it seems that the biggest topic faced by "Neo Yokio" is the challenge of finding the meaning of life and figuring out who you're supposed to be, especially while growing up in such a big city.
It's definitely a different anime, and we can't say whether you'd like it. You just have to see it for yourself.