'One Piece' chapter 879 features epic fight, Fall special shows Luffy vs Sanji
There will be two highly anticipated battles in the upcoming 'One Piece' anime and manga series.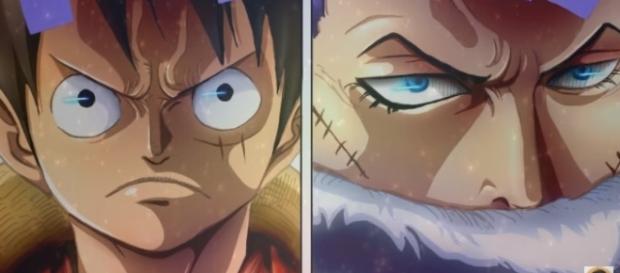 "One Piece" chapter 879 could be one of the most exciting chapters of the manga series. It will be featuring the most highly anticipated battles as the final stage of the Whole Cake Island arc is about to finish.
The previous chapter titled "Mink Tribe, Guardians Chief Pedro," it is available on different websites which talk about the aftermath of Pedro's suicidal attack and the continuation of the battle between the Straw Hat Pirates and the Big Mom Pirates.
Members of the Nox Pirates, Pedro and Zepo infiltrated the territory of Big Mom but they failed after Zepo died when Big Mom took away 100 years of his life. As for Pedro, he lost an eye and 50 years of his life were taken away. An explosion occurred but it appears that Pedro survived it as his shadow showed up. Luffy and his crew once again tried to escape. Monkey D. Luffy said that the sacrifice of Pedro would be wasted if their escape plan failed.
Katakuri vs Luffy
"One Piece" chapter 879 will feature a battle between two great fighters - Katakuri, and the Straw Hat Pirate captain Monkey D. Luffy. Fans of the series would like to see who will end up victorious. It should be quite exciting to see what happens during the fight.
The upcoming chapter will show Luffy trying to neutralize Katakuri because he is against the plans of the Straw Hat pirates to escape the Whole Cake Island. Because of this, Luffy will try to trap Katakuri and Brulee in the Elephant Gun. Luffy will drag them to Brulee's Mirror World.
Since Katakuri is not easy to beat, fans are expecting to see an epic battle. For sure, Luffy will do his best for them to leave the island. Many are wondering what technique Luffy will use to defeat Katakuri.
Fall special episode
Meanwhile, there will be another epic battle that "One Piece" will feature in a special one-hour fall special. The "Tragic Duel: Luffy vs. Sanji" will showcase a fight between Sanji and Luffy. Toei Animation shared a five-minute clip which was later taken down.
LOOK AT THIS IMAGERY. I'M SO HYPED. WTFF pic.twitter.com/vk7dnkw8Aa

— YonkouProductions (@YonkouProd) September 15, 2017
Some fans managed to get a screencap of some scenes which are full of hype. The fight started when Sanji attempted to leave the Straw Hat pirates, saying that he would not go with them when they tried escaping from the Whole Cake Island.
The teaser video was created by Daisuke Sato with Otsuka Takashi as director and Fukuzawa Toshinori as supervising director.
The animation is a collaboration between Ichikawa Keiichi as chief animation director and Yokoyama Kenji as animation director.
"One Piece" chapter 879 is expected to be released on September 25 in the Weekly Shonen Jump. The one-hour autumn special will premiere on Oct. 1.
Click to read more
and watch the video
or