'Food Wars' Season 3 to premiere this fall: A lot of changes to happen
Recently speculated to return last July, the third season of the cooking anime 'Food Wars! Shokugeki No Soma' will show a lot of changes.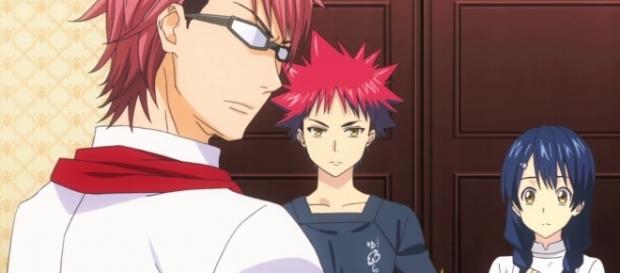 The second season of "food wars! Shokugeki No Soma" ended with the main character and cooking protege Yukihira Soma returning to the Totsuki Culinary Academy. Since he is already finished with the training program with Shino's Tokyo, what are the next challenges that he will face?
Fans of the hit anime want to know who will be the next challengers of Soma now that he was able to prove his worth after the Stagiaire. Will he finally make it to the Elite Ten?
Details about the third season
There are rumors that the third season will also have 13 episodes, the same as the second season. It is expected to cover the two arcs from the manga that happened after the Autumn Election. There will also be a new character to be introduced in this season.
"Food Wars! Shokugeki No Soma" will also revolve around the Totsuki Culinary Academy's centralization.
With Nakiri Erina's father, Nakiri Azami, being appointed as the new school administrator to replace her grandfather, the future of the Polar Star Dormitory is at stake. Together with his dorm mates, Soma needs to defend their dormitory against its scheduled closure.
The real Erina
After imposing strict rules when it comes to cooking, Erina will find herself facing her own challenge against her father. Azami tells her that she will lose her position in the Academy if she does not follow the newly imposed cooking rules. She will join forces with the members of the Polar Star Dormitory.
While they are joining forces, the students of the dormitory will begin to understand Erina's past. It is rumored that her heart will begin to soften and will form a special bond with her arch-enemy, Soma.
Changes in Season 3
Meanwhile, most of the Japanese casts will remain the same for season 3 except for Risa Taneda, the voice behind Nakiri Erina. Due to medical issues, she might not be able to reprise her role in the third season. However, her company recently announced that she is already in recovery and is set to return. But she needs to continue taking care of her throat for the next few months. Voice actress Hisako Kanemoto who voiced Erina in the "Shugetsu no Meguriai" episode is expected to replace Taneda temporarily.
The release date
There were rumors that "Food Wars! Shokugeki No Soma" Season 3 will return on July 1. However, the rumors were not true. Instead, Ota-Suke released the information last July 4 that the 25th volume of the manga will be on sale the same day.
"Food Wars! Shokugeki No Soma" Season 3 is scheduled to premiere this fall, October 3.
Click to read more
and watch the video
or